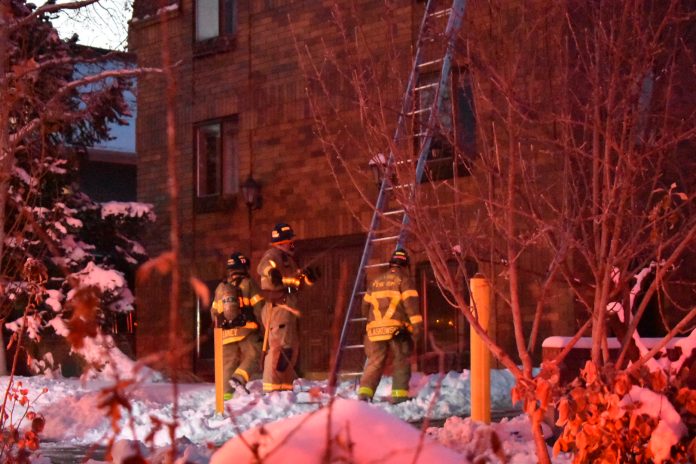 SALT LAKE CITY, Utah, Dec. 29, 2016 (Gephardt Daily) — More than two dozen people were forced to flee their homes Thursday morning when a raging fire broke out in one of the apartment units at 1016 E. 900 South, causing at least $50,000 in damages. 
Investigators have determined the fire was accidental, caused by candles left burning while the resident slept, said the Salt Lake City Fire Department in a tweet Thursday afternoon.
Things might have been considerably worse if there weren't a fire station directly across the street.
Salt Lake City Fire Captain Mark Bednarik told Gephardt Daily the first calls came in to dispatch at about 6:30 a.m.
When firefighters from Fire Station 5 began to respond, they saw flames 30 feet high leaping from the top of one of the apartments. 
Firefighters went into attack mode, knocking down the flames while venting heavy smoke by cutting holes in the roof.
One apartment unit was destroyed, while six others had heavy smoke or water damage.
The occupant of the apartment where the fire broke out was taken to the hospital with injuries to his feet from being forced to flee into the snow and ice.
Other barefoot residents, many clad in pajamas, were given shelter at the firehouse while firefighters battled the blaze.  
Bednarik said the Red Cross had been called to arrange temporary housing for displaced residents.