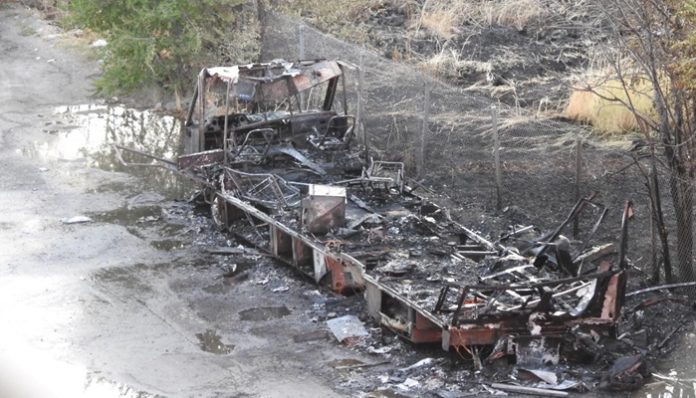 SALT LAKE CITY, Utah, Aug. 1, 2019 (Gephardt Daily) — Salt Lake City crews battled an RV fire Thursday night in the area of Redwood Road and Interstate 80.
"We had multiple calls come in from passersby on the roadway both on the freeway and on Redwood, calling in an RV that was on fire, around 8 p.m." Salt Lake City Fire Department spokesman Capt. Adam Archuleta told Gephardt Daily.
He said the location of the fire, along 200 South between Orange Street and Redwood Road, was a little different from the coordinates fire crews were given, so there was a slight delay in their response.
"This is a side street in an industrial area, this is an RV that was not inhabited at the time of the fire, and we are also treating this as very suspicious at this point because this is within just a few feet of another vehicle fire that occurred less than 48 hours ago," Archuleta said.
He added no one was injured as a result of the fire.
Because of the suspicious circumstances, arson investigators responded to the scene.
"This is a very unusual circumstance, Archileta said. "Generally, if a car starts on fire it's in the engine compartment or due to an electrical malfunction of some sort and there's generally someone with the vehicle or doing routine maintenance on the vehicle. This does not appear to be something like that."
The previous incident in the same area occurred just after 1:30 a.m. Tuesday. A vehicle caught fire, which led to a brush fire. The flames spread rapidly, and crews had to work fast to contain it and put it out. They gave the "all clear" within about 20 minutes.
There were no injuries as a result of the blaze.
Archuleta said that because of the proximity to the freeway and Redwood Road, there were a good number of witnesses to Thursday evening's fire, and if anyone saw anything suspicious they are asked to call SLCFD on 801-799-3473.