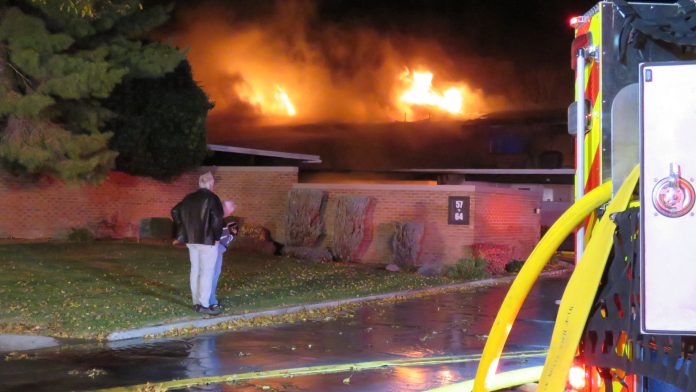 MURRAY, Utah, Oct. 28, 2016 (Gephardt Daily) — A Salt Lake City firefighter on the cusp of retirement after 30 years of service answered the fire call of a lifetime early Friday morning — a call that came from his own home.
Bruce Emmett told Gephardt Daily he was on duty at Firehouse 3 in Sugar House when his wife left a startling message:
"Come home quick. The house is on fire."
Emmett raced to his residence at 735 E. Three Fountains Circle, knowing all too well the scene he would likely encounter.
"It's a sickening feeling," he said. "You know exactly what's going on. What you're going to see. You know how it's going to be."
As Emmett arrived, he saw firefighters from multiple agencies springing into action, working to knock down the fire that was already engulfing his residence.
"We pull up and I can see the flames in my unit window," he said. "I'm just watching, and then see they've gone to a defensive position. So I knew that they're just waiting for the building to burn down. It was an attic fire."
"My first thought was 'Is my wife OK?'"
She was.
"Then I realized I'm just like everybody else whose home burns. This is how it feels for all of those people watching their home burn down as you're putting water on it.
"I'm trained to fight fire and I have empathy for people," Emmett said."I've always had empathy for those people. And you see all the disasters. People are flooded out and everything else, and you think,' when is it my turn?'
"And then … it's my turn."
Emmett's home was a total loss.
The cause of the fire has yet to be determined.