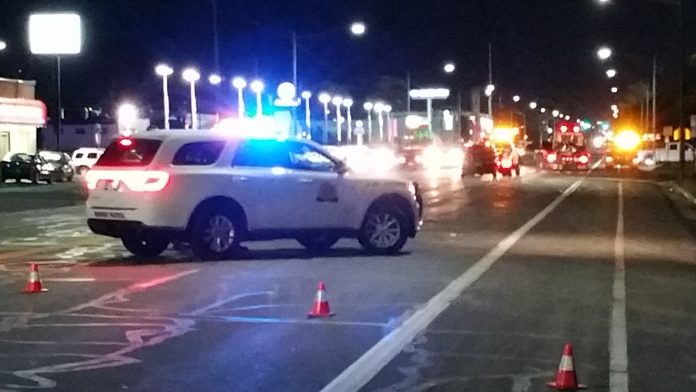 SALT LAKE CITY, Aug. 29, 2016 (Gephardt Daily) — A Salt Lake City motorcycle officer on special assignment to watch for distracted drivers was injured Monday evening when he attempted to make a traffic stop and another vehicle pulled out in front of him.
The incident happened at 7:40 p.m. near 1100  S. Main St., said SLCPD Lt. Dave Cracroft.
The officer was traveling northbound on Main when a Toyota Corolla turned left off Harvard Avenue in the path of his motorcycle, Cracroft said.
The impact with the Corolla threw the officer and motorcycle into another car, which received minor damage.
The officer had a leg injury and was transported to University Medical Center, where he was also being checked out for concussion and any other injuries, Cracroft said.
The Corolla was totaled, and Cracroft said its driver was cited, probably for a stop sign violation.
Main Street was blocked off while officers investigated the accident and cleared the scene.
Lt. Cracroft told Gephardt Daily that according to the log sheet, the officer had his lights on, but not his siren, so it is likely the officer was attempting to make a traffic stop and was not pursuing anyone. He said it's possible the driver of the vehicle the officer wanted to stop wasn't even aware of what was happening.