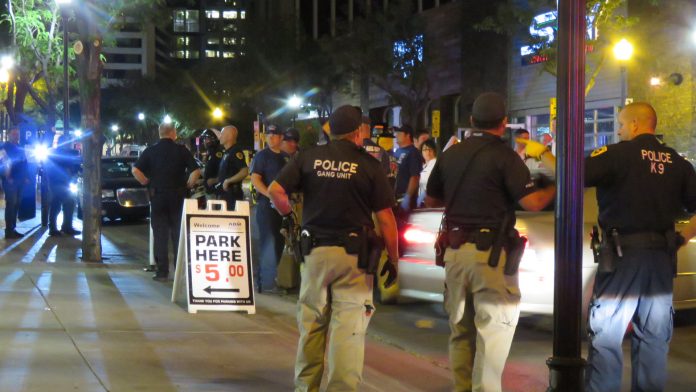 SALT LAKE CITY, Utah, July 1, 2017 (Gephardt Daily) — Salt Lake City police had their hands full early Saturday morning after a series of drunken brawls broke out in front of the Sky SLC lounge at 149 W. Pierpont Ave.
Police were first called to the scene at 2:19 a.m.
When officers arrived, they came upon a crowd of 25 people slugging it out in the street.
After an urgent call for back-up, more than a dozen police units responded and in about 15 minutes brought the situation under control.
Witnesses on the scene told Gephardt Daily the fights broke out when one group of partiers confronted another. A few heated words were exchanged and in a matter of moments fists and feet were flying.
There were no reports of serious injuries, although a number of would-be street pugilists could be seen nursing fat lips and tending to swollen knuckles.
Several suspected brawlers were questioned by police, but it appears no one was arrested.
Gephardt Daily will update this story as more information becomes available.
Pierpont Avenue Street Brawl