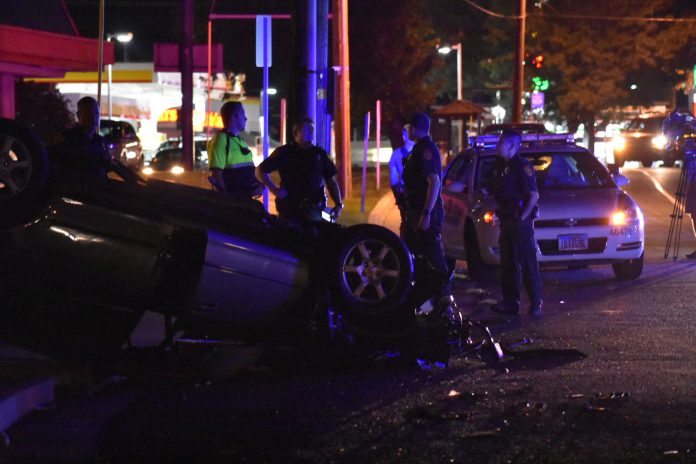 SALT LAKE CITY, Utah, July 29, 2017 (Gephardt Daily) — A frantic search Saturday for a stolen car with a 1-year-old boy in it had a happy ending when the child and then the suspect were located.
Salt Lake City Police Lt. Robin Heiden said officers got a call just before 9 p.m. from a woman who said her child had been kidnapped.
The woman had driven to an apartment complex near 700 S. 900 West to see someone and had been there only briefly when she saw a man drive off in her car.
Heiden said the car went southbound through a nearby 7-Eleven parking lot, so police were able to get a photo of it from surveillance video and sent out an alert to attempt to locate it.
"About 30 minutes later," Heiden said, "the baby was dropped off at (Intermountain Medical Center) in Murray."
She said it's possible that the suspect had no idea the baby was in the car when he took it.
The child was in good condition and has been returned to his mother.
Police later spotted the car, a 2005 gray Nissan Altima, near 2900 S. State St. They turned on their lights and the driver fled, traveling about 10 blocks and turning west, which was when police terminated the pursuit.
Heiden said the suspect kept going until he crashed the Nissan at about Redwood Road and 3900 South.
The suspect, a 21-year-old man, was taken to a local hospital with minor injuries from the crash. His name is not being released pending his being booked into jail.
Heiden said he will likely be charged with kidnapping, fleeing and any outstanding warrants.
Asked if child abduction is an unusual crime for the area, Heiden said, "We don't often see a child kidnapping in a vehicle. Sometimes in winter, when people leave the car running so the child stays warm, but not in the summer."
She pointed out that this sort of incident is a crime of opportunity. "He wanted the car, and he took it."
Her advice for everyone is to remember that it's dangerous to leave a child alone in a vehicle at any time.
Salt Lake City, July 29, 2017