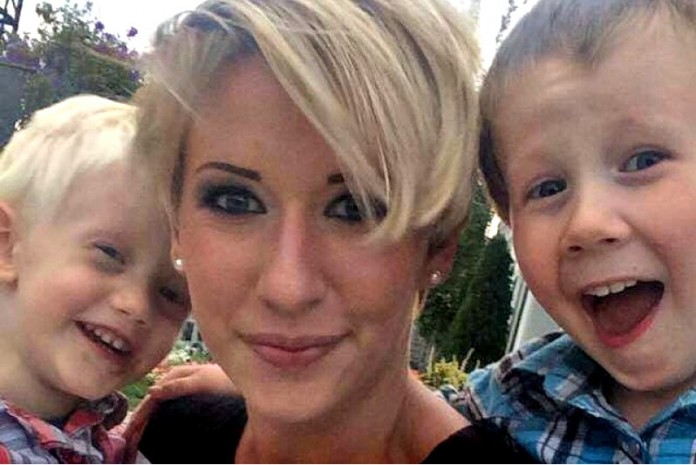 OGDEN, Utah, Feb. 17, 2016 (Gephardt Daily) — Danny Paniagua was driving to Ogden Monday when, in an instant, the road ahead became a screeching landscape of swerving cars and brake lights.
"Everybody slammed on their brakes," said Paniagua, 27 and from Salt Lake County. "I was about 30 seconds behind a bad accident."
Ogden resident Jessica Bingham, 29 and the single mother of two young boys, was driving alone, and had merged too fast while traveling from I-84 to I-80.
Her car hit the barrier that divided the highway, and Bingham was ejected from her vehicle, and thrown toward the southbound lane of oncoming traffic.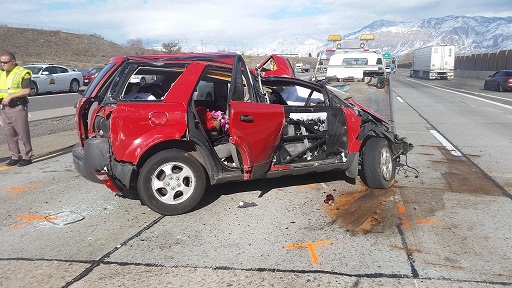 Paniagua pulled over and followed the trail of fractured car parts. He posted a message later, on his Facebook account, about what he had seen.
"Approaching this horrible accident seconds after it happened, I felt prompted by the spirit to park my car and run over to the other side of the freeway (oncoming traffic) where I found a girl on the side of the road laying in a pool of blood and torn flesh head to toe," Paniagua wrote.
"As I got closer I realized that she was still alive. Barely. Another man approached and began yelling, 'We need oil! We need oil, does anyone have any?!' I knew exactly what he meant and I found myself saying, 'I do!'"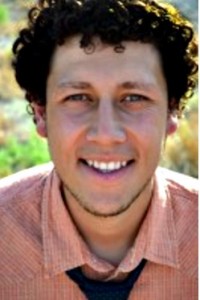 Paniagua and the stranger, named Michael, were both members of the Church of Jesus Christ of Latter-day Saints. As nurses who had arrived at the site tended to Bingham's medical needs, Paniagua and Michael used oil to anoint Bingham, then, with her permission, gave her an LDS priesthood blessing.
"We believe that blessing held her together till the ambulance arrived," Paniagua posted later.
"It's amazing how the spirit can work through us imperfect human beings if we allow it. You never know when our Heavenly Father calls for our service and we need to be ready."
Paniagua, a real estate agent, continued with his daily routine, and didn't check Facebook for awhile.
"It had exploded," Paniagua told Gephardt Daily. "I came back until six hours later and the post had 500 shares. It started skyrocketing like crazy."
As of mid-afternoon Wednesday, Paniagua's Facebook post had reached 4,676 "shares," with "likes" standing at 15,528.
"And I realized at that point people were sharing it because it touched their lives," he said. "And people wanted to help."
So Paniagua went out of his way once again, this time to offer practical assistance. He created a GoFundMe page for Bingham, and is co-administering it with Bingham's mother, Denice Okey. As of Wednesday afternoon, 238 people had visited in one day, and had donated a total of $6,505.
Paniagua set a goal of $10,000. Bingham's resources are limited, due in part to the recent death of her fiance.
"Please donate to her and her family in this time of need," the GoFundMe page reads, in part. "I am hosting this fund and will deliver the money with anyone who wants to join me when the goal is hit. Every penny will be donated to her. Love all of you and your kindness! Let's show her love."
Paniagua said Okey told him Bingham does believe the blessing helped her.
"The doctors, when they took her in, were pretty shocked at her condition," Paniagua said. "For one, she should have died. For two, she didn't have brain damage and her skull was ripped off the front of her head. It broke every bone in her body except her spine and neck, but she had no internal bleeding.
"And I received word today that she is walking. She's a strong girl. God really loves her."
Paniagua said his own faith has grown stronger through the experience.
"I've learned there are so many loving people out there, so willing to give," he said. "I am humbled at the opportunity to witness such a huge amount of love other people have. It has strengthened my testimony. The human spirit is so incredible, so loving and giving.
"It's been amazing experience," Paniagua said. "I want to make it clear I'm not a hero or anything like that. This is not about me, it's about Jessica. I happened to be in the right places at the right time to serve as a mouthpiece for our Heavenly Father, and to witness all this love."