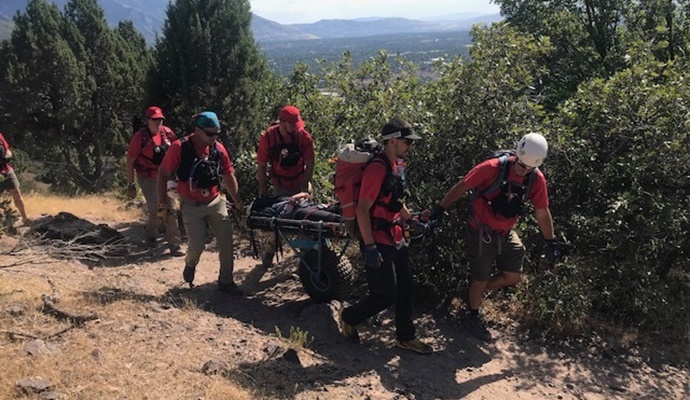 SALT LAKE COUNTY, Utah, Sept. 3, 2019 (Gephardt Daily) — Salt Lake County Sheriff's Office Search and Rescue teams had a busy Monday, bringing two hikers, in separate incidents, safely down from Mount Olympus.
In the first call, a woman and her friends had set out early Monday and hiked to the summit of Mount Olympus, a SAR news release said.
As they were coming back down, the woman injured her ankle. With her friends' help, she attempted to continue the hike down, but it proved too difficult and she decided to call for help at about 10:42 a.m.
The woman was about three miles up the trail on the "Blister Hill" section of the trail.
"Several SAR teams headed up the mountain and were able to use a litter and wheel with a lot of manpower to get the patient down the mountain," the news release said.
The rescue took five hours and 47 minutes, and the woman was off the mountain by about 4 p.m.
The injured woman gave SAR an update later Monday, saying her ankle was broken in three places.
That wasn't the end of the hike for all the rescuers, though.
"Just as the teams got to the last few hundred feet to the trailhead, a second call came in for a sick hiker nearly 2 miles back up the trail," the news release said. "A team of four turned around and headed back up the mountain."
The second hiker was a man who had made it to the summit of Mount Olympus and became dehydrated and sick on the way down. He found a shady spot under a tree, and another hiker stopped, gave him water, and waited with him.
Responding to that call, four SAR members took all the water from the rest of the team and went back up the mountain while the others finished bringing the woman with the broken ankle down.
About 1.7 miles up the trail, the four-member team located the dehydrated man and the hiker who had waited with him. They cooled the man down, got him hydrated and rested, and then slowly hiked him down. He was safely off the mountain shortly after 6 p.m.