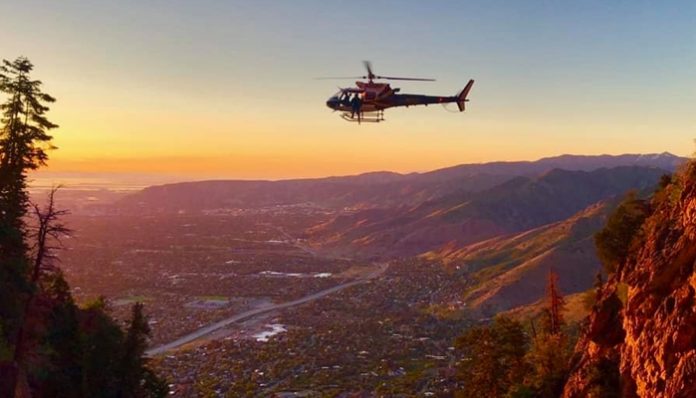 SALT LAKE COUNTY, Utah, June 10, 2019 (Gephardt Daily) — Salt Lake County Search and Rescue assisted an injured climber who fell 15 feet on Mount Olympus Sunday evening.
Crews got called out around 6 p.m. for an injured climber at the bottom of the West Slabs just at the top of the snow in the couloir, which is a steep, narrow gully, said a Facebook post from Salt Lake County Sheriff's Search and Rescue.
Three climbers had gone up earlier in the day and hiked up and climbed the West Slabs Route, the post said.
"They had all descended off the ridge back to the snow and had begun descending the snow section when one of the female climbers started to slide without being able to stop and slid into a large snow moat on climber's left," the post went on.
"She dropped about 10 to 15 feet into the moat hitting the rocks at the bottom and injuring both legs, her knee and ribs."
Salt Lake County Search and Rescue sent several teams up from the bottom and two members got hoisted to just above the injured party. Team one and two both got to the patient about the same time from above and below and began treating her and prepping to extract her off the mountain as soon as possible, the post said.
"The team was able to build snow anchors and get her out of the moat to a location that the Department of Public Safety could come in and extract her by helicopter," the post said. "The teams on the mountain hiked the rest of the way out with the patient's two friends and all were off the mountain just before 10 p.m."