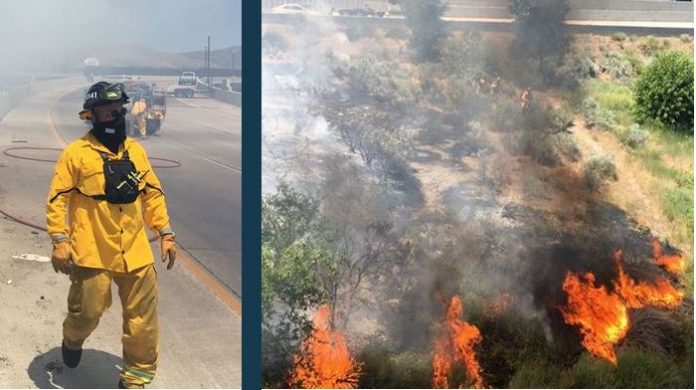 SALT LAKE CITY, Utah, June 29, 2019 (Gephardt Daily) — Fire crews responded to the area of 600 South on both sides of Interstate 15 on Saturday after a trailer broke loose from a northbound pickup truck, and sparks from friction ignited two grass fires.
Utah Department of Transportation cameras caught the incident in progress at about 1:30 p.m.
"The pickup was pulling a trailer when the hitch broke," Salt Lake City Fire Capt. Adam Archuleta told Gephardt Daily. "When the trailer came in close contact with the roadway, sparks caused grass fires on both sides, on both the east and west sides of I-15, in two locations."
About 20 firefighters rushed to the scenes.
"Our primary concern was protecting the roadway from flame impingement," Archuleta said. "There were structures nearby, and we protected those as well. We were able to put the fires out in about 30 minutes. Luckily, we did have a quick response, and the fire was reported really quickly."
Portions of the roadway closed have since reopened, Archuleta, adding that no injuries were reported as a result of the fire.