(Audio begins at 30 seconds, arrest at 6:45 mark)
SALT LAKE CITY, Utah, Sept. 1, 2017 (Gephardt Daily) — A Salt Lake City Police detective was put on administrative leave Friday pending the results of a criminal investigation.
Salt Lake County District Attorney Sim Gill requested the investigation of SLCPD Detective Jeff Payne, who is the subject of multiple reviews and investigations following revelations about a July 26 exchange with Alex Wubbels, a nurse at the University Hospital burn unit.
Payne told Wubbels to draw a blood sample from the unconscious victim of a fiery collision in Cache County (see dash camera video here). The crash had killed a suspect fleeing from the Logan Police Department.
Wubbels declined, since the blood draw legally required the officer have a search or arrest warrant, or the patient's verbal consent.
Refused, Payne became hostile and grabbed the nurse, putting her in handcuffs, then in the back of his patrol car as she yelled that she had done nothing wrong. No charges were filed against her.
The exchange, captured on Payne's body camera, became public after it was released Thursday by Wubbels and her attorney.
Gill said he ordered the investigation at the request of SLCPD Chief Mike Brown and Salt Lake City Mayor Jackie Biskupski.
"Both Mayor Biskupski and Chief Brown agreed that it was appropriate and I thank them for their commitment to transparency and institutional accountability," Gill wrote on his Facebook page. "Injustice against one is an injustice against all. Everyone deserves a fair process and institutional accountability is our collective responsibility."
Brown and Biskupski spoke about the incident Friday at a mid-day news conference.
"I was alarmed by what I saw in the video with our officer and Ms. (Alex) Wubbels," Brown said. "I am sad at the rift this has caused between law enforcement and the nurses we work so closely with. I want to be clear, we take this very seriously."
Brown said officers who interact with medical personnel have been retrained in protocol, with some procedures being altered to ensure no such episodes will occur again.
Brown also said Payne had been reassigned to duties not including blood draws, but later on Friday, Payne's suspension was announced.
Biskupski also spoke at the Friday news conference.
"Like many of you, I watched the video of police officers interacting with University of Utah Medical Center nurse Alex Wubbels for the first time through the media late yesterday," Biskupsi said.
"What I saw is completely unacceptable to the values of my administration and the values of the Salt Lake City Police Department. I extend a personal apology to Ms. Wubbels for what she has been through for simply doing her job."
Biskupski said that investigations are being conducted by Internal Affairs and the Civilian Review Board. The Unified Police Department will handle the internal investigation to prevent conflict-of-interest issues.
Utah Gov. Gary Herbert tweeted his concerns on Friday morning: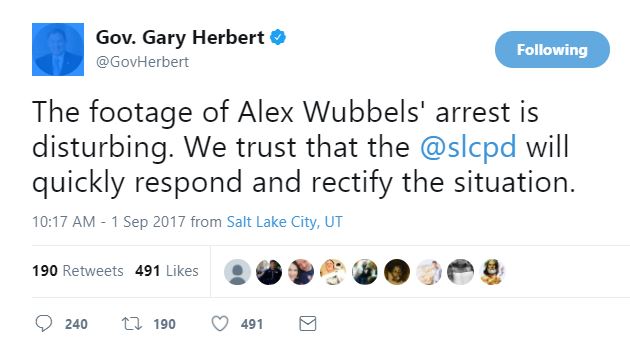 "The footage of Alex Wubbels' arrest is disturbing. We trust that the @slcpd will quickly respond and rectify the situation."
Angry reaction from medical professionals and the general public has ignited social media with angry posts.
Posts on Herbert's Twitter page demanded that Payne be held accountable.
"This officer had a grown up temper tantrum and abused his power just because he could," one poster said, earning 100 likes within a few hours. "Remove him from active duty."
"Nurses and sensible human beings all over the world second this," the next poster said. "@GovHerbert The world is watching. Do the right thing."
"Shame SHAME on you for still allowing this police officer to still work," another poster remarked. "The nurse was absolutely following the law, and protecting the pt."
"The officer assaulted an innocent woman who was following procedure," another offered. "Be a leader and charge him with the crime he committed!"
Other critical comments were posted on the Facebook page of the Salt Lake City Police Department and of Biskupski, among other places.