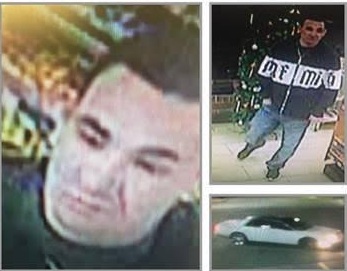 SALT LAKE CITY, Utah, Dec. 3, 2015 (Gephardt Daily) — Police are requesting the community's help in identifying a man who on Thursday morning robbed a 7-Eleven.
According to Salt Lake City Police, the man walked into the 7-Eleven located at 483 South Redwood Road at 12:22 a.m. and placed several items on the counter before brandishing a knife and demanding cash.
The clerk complied and the suspect left the store and got into a vehicle that was waiting in the parking lot.
The suspect is described as a Hispanic male, 25-30 years old, 5 feet 2 inches tall, approximately 170 pounds, with a short buzz-style haircut. He was wearing blue jeans and a black hoodie with calligraphy writing across the front.
The suspect vehicle is described as a late '90s to early 2000 model white Cadillac with a black roof. The car has three chrome wheels and one black wheel in the right front.
Anyone with any information on the identity of the suspect is asked to call Salt Lake City Police at (801) 799-3000.