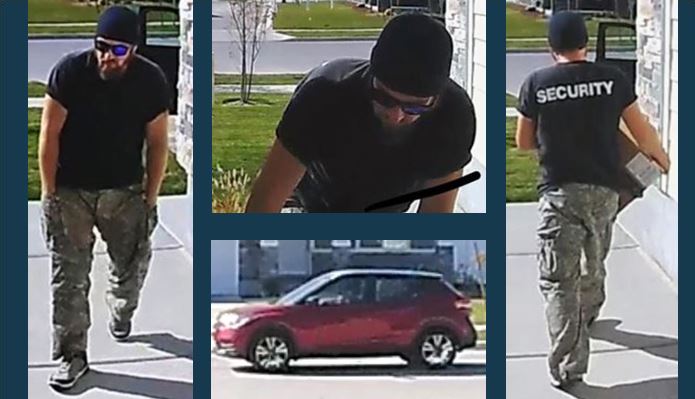 WOODS CROSS, Utah, Oct. 26, 2019 (Gephardt Daily) — The Woods Cross and North Salt Lake police departments are both hoping to identify a man caught on surveillance and wanted for residential burglaries.
The departments, in neighboring cities, each have posted photos, which appear to be the same man wearing the same outfit: faded camouflage pants, a black T-shirt with white lettering on the back, a dark knit cap, and sunglasses with blue frosted lenses.
The Woods Cross police also posted a photo of a small red car believed to have been used by the man. North Salt Lake police posted a file image of a red car that appears to be the same model.
The Woods Cross Police post is looking for a porch pirate, someone who steals delivered packages from residential porches. The North Salt Lake post is looking for a residential burglar who struck on Oct. 14.
Both departments want to identify the man captured on surveillance.
Anyone who recognizes the man in the photos is asked to call Woods Cross Police Department at 801-298-6000 or the North Salt Lake Police Department at 801-335-8655.
A photo posted by the North Salt Lake Police Department appears below: