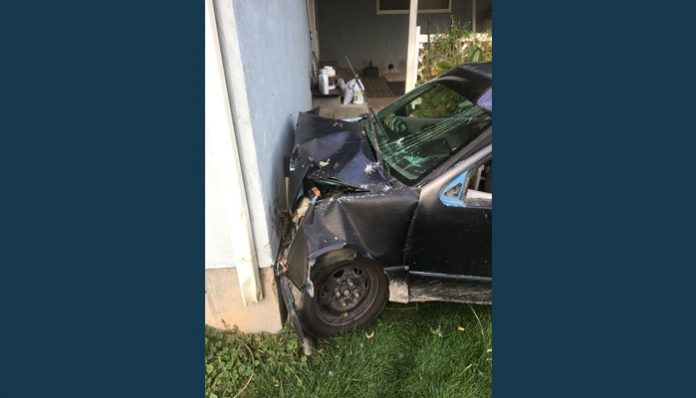 SPRING LAKE, Utah, Sept. 18, 2017 (Gephardt Daily) — A Santaquin man was hospitalized Sunday after officials say he crashed into a house in Spring Lake while under the influence of various drugs.
The driver, Chad Ned Dunford, 46, was found in the driver's seat, according to a news release from Sgt. Spencer Cannon, spokesman for the Utah County Sheriff's Office.
Drugs were found in his car and he will be charged with felony DUI and other charges, the news release said.
Deputies were dispatched to the area of 12700 South Spring Lake Road, just north of Santaquin, Sunday shortly before 8:30 a.m., the news release said. An officer with Payson Police Department also responded.
Deputies arrived and found that a car had driven off of Spring Lake Road and crashed into a house. Ambulance personnel with Payson Fire Department stabilized Dunford and transported him to Mountain View Hospital in Payson. He was later transferred to Utah Valley Hospital in Provo. Dunford sustained broken ribs in the crash.
"When Dunford was being taken to the hospital he told EMT's he had used heroin the previous night and had consumed alcohol," the news release said.
"Dunford also had a used syringe cap in his mouth that he would not give to EMTs. While investigating the crash, deputies discovered evidence including heroin, methamphetamine, marijuana, and drug paraphernalia."
Officials also found that Dunford's Utah driver license had a status of "revoked alcohol offense." His driver license also showed he is an alcohol restricted driver and is required to have an ignition interlock device installed on any car he drives. There was no ignition interlock device installed in the car Dunford was driving at the time of this crash. Additionally the car was not properly registered.
At the hospital, Dunford agreed to submit to blood and urine tests. The urine test was positive for methamphetamine, amphetamines, opiates, and THC, the active ingredient in marijuana.
When deputies checked Dunford's Utah criminal history, they discovered he had three prior convictions for DUI in 2001, 2015, and 2016. Two of those convictions were within the previous 10 years, making this charge of DUI a third degree felony.
Dunford will also be charged with possession of methamphetamine, possession of heroin, possession of marijuana, possession of drug paraphernalia, driving on alcohol revoked driver license, unsafe lane travel, driving left of center and no vehicle registration.
Because Dunford was hospitalized following his crash and because of his injuries, he was not arrested, but will later receive a summons to appear in court to answer to these new charges.
An additional charge of alcohol restricted driver may be added if the blood test shows Dunford also had alcohol in his system.