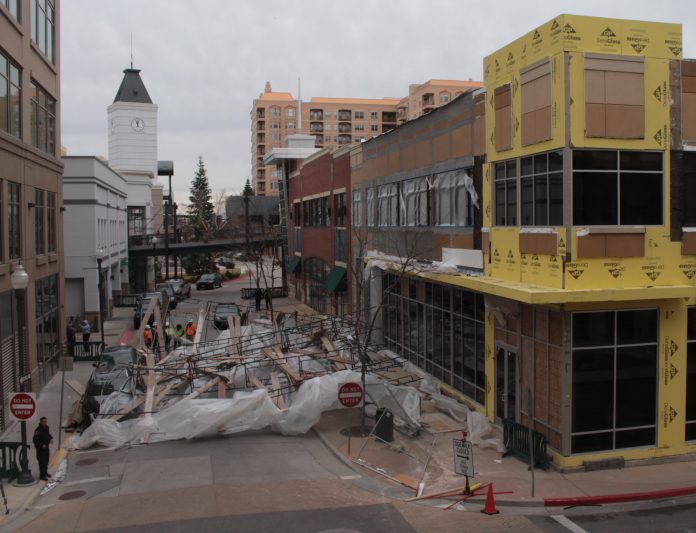 SALT LAKE CITY, Utah, Dec. 15, 2016 (Gephardt Daily) — Two workers have been injured, one seriously, after scaffolding collapsed near the Gateway Mall Thursday morning.
Sgt. Brandon Shearer from the Salt Lake City Police Department said there were three construction workers on the third floor of the scaffolding at a construction site at 50 N. Rio Grande St. when the collapse occurred just before 9:40 a.m.
One worker was able to climb to the roof of the building and avoid injury, one fell to the lip of the second story and sustained minor injuries, and one fell to the ground and was seriously injured, Shearer said. The latter two were transported to area hospitals by ground ambulance.
A number of cars were also damaged in the collapse.
Shearer said there have been strong wind gusts Thursday morning which could have caused the collapse, but the Occupational Safety and Health Administration (OSHA) will be on the scene to determine exactly what happened.
Witness Cheryl Tarbet works just across the street from the construction site. She said that someone told her to come and look out the window when a large crash was heard.
"You would think that with that kind of crashing that there would be more people hurt," she said. "One guy was stuck on the ledge and they had to get up and get him off the ledge. To see something like that is kind of scary."