SALT LAKE CITY, Utah, March 22, 2016 (Gephardt Daily) — Utah feels the Bern.
With 89 percent of the Utah Democratic vote counted CNN, NBC and the Los Angeles Times all have projected Sen. Bernie Sanders as the winner of Tuesday's Democratic caucus here in the Beehive State.
Sanders flew to Utah to talk to is followers twice in recent days, on Friday at the University and on Monday at West High School's field house.
"I hope everyone in this room knows there's an important caucus tomorrow night here in Utah," Sanders said on Monday. "I hope everyone comes out and brings their brothers and sisters, aunts and uncles, and everyone they know."
And Utahns did come out in droves, drawn to the idea of "A Future You Can Believe In," as Sanders' slogan promises.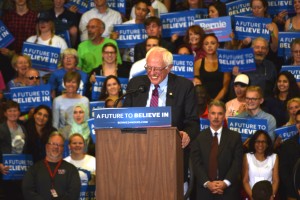 Besides Utah, locations hosting caucuses or primaries on Tuesday included Arizona, American Samoa, and Idaho (Democratic caucus only).
Some results are in in most of the races. Check out the latest numbers below.
UTAH
Democratic caucus
With 82 percent of the Democratic caucus votes counted on the Democratic side,  Sen. Bernie Sanders stands at 79.7 percent of the vote, and Hillary Clinton has 19.8 percent.
Sanders wins 26 of Utah's Democratic delegates, while Clinton wins just six.
Republican caucus
Sen. Ted Cruz is the projected winner of Utah's Republican caucus. With a 85 percent of the votes counted, Cruz has 69.2 percent of the vote, meaning he too has won all of Utah's 40 delegates.
Ohio Gov. John Kasich had 16.9 percent of Utah Republican's votes, and Donald Trump had 14 percent.
ARIZONA
Democratic primary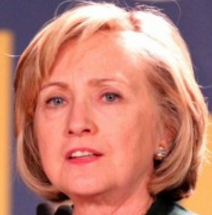 In Arizona, Hillary Clinton was declared the winning Democratic nominee with almost all of the votes counted. Clinton won 60.5 percent of the vote, and 40 delegates. Sanders won 37 percent of the remaining counted votes, and 16 delegates.
"I do believe I am the most ready of everybody running," Clinton joked, in a victory speech. She also talked about a candidate who had exhibited bigotry, a likely reference to candidate Donald Trump.
"We've got to reclaim the promise of American for all our people, every single one," she said, before talking about her plans for more jobs, renewable energy and more.
Republican primary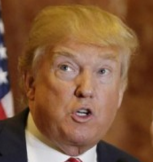 Trump has been declared the Republican winner after winning 46.5 percent of the vote, which earned him all of the party's 58 delegates because of a winner-take-all rule.
Cruz took 21.1 percent of the vote, but no delegates. Kasich won 10 percent of the Republican votes, and also won no delegates.
IDAHO
Democratic caucus
Sanders took Idaho as well, earning 78 percent of the votes in the caucus and 17 delegates. Clinton got 21.2 percent of the votes and five delegates.
Republican caucus
Idaho Republicans voted for their favorite candidates March 8. And they chose Cruz by a large margin.
Cruz won 45.4 percent of the votes, earning 20 delegates. Trump came in second with 28.1 percent of the vote, earning 12 delegates.
Coming in a distant third was Sen. Marco Rubio, who now has suspended his campaign, taking 15.9 percent of the vote and no delegates.
In last places was Kasich, with 7.4 percent of the vote and no delegates.
There's no word yet on results from American Samoa.
Voters in Utah saw a flurry of campaign visits in recent days. Besides Sanders, GOP candidates Trump, Cruz, Kasich all visited. To see videos and read articles on their visits, click on the following links: Cruz; Trump's speech,  dramatic images; Kasich; and Sanders rally one or rally two.