BURNS, Ore., Feb. 11, 2016 (Gephardt Daily) — Forty-one days in the armed occupation of the Malheur Wildlife Refuge by militia members, Sean and Sandy Anderson, of Riggins, Idaho, held hands and an American flag as they left their encampment, unarmed, and surrendered to authorities.
Jeff Banta, of Yerington, Nev., was next, and held his hands up as turned himself over to law enforcement officials three minutes later, at 9:44 a.m. Pacific time on Thursday.
David Fry, of Blanchester, Ohio, was the last and the youngest remaining occupier by a margin of 19 years. FBI agents and local police officers stood by to receive him.
Fry, 27, sat back and lit a cigarette.
"Until may demands are met, I cannot come out, because I am a man," Fry said, in a live-streamed phone call to Internet talk show host and activist Gavin Seim and Constitutional educator and speaker KrisAnne Hall.
"I'm taking a stand," Fry said. "A stand means you are willing to risk your life."
Fry then spend the next 75 minutes talking about a wide variety of concerns. He said his voice on the issue of gun rights and control of government land had not been heard.
"Think about this all the way through," Fry said. "They haven't really promised anything for me. I am kind of worried they are just going to ignore us."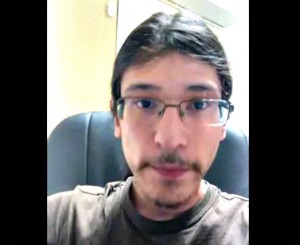 Hall assured Fry that the 18,000 listeners tuned into the live stream had heard his voice, and media outlets would line up for interviews. The word about Fry's convictions would get out, Hall said. Before the end of the live stream, Seim's show had more than 31,600 listeners.
Fry talked about feeling suicidal, and the fact that he had access to a gun. Interviewers Seim and Hall quoted scriptures and told Bible stories to support their views that Fry should submit to authority, trust in God, find other ways to get his messages out, and live on.
At different points in his conversation, Fry talked about the constitution, his anger over his taxes going to support causes he despised, like abortion and bombing other countries. He asked for assurances his tax money would not be used for such things. The hosts, naturally, could make no such promises.
Fry threatened he would not be taken alive. He lamented the lack of real heroes, noting the death of Robert "LeVoy" Finicum, who was shot on Jan. 26 by FBI officers who interpreted his movements as threatening when he left his vehicle after a traffic stop planned to take occupiers into custody.
As time passed on Thursday morning, Fry said he began to get tired, and wanted to be left alone to think. He criticized President Barack Obama, asked for pizza, and compared sacrificing his life to the sacrifice made by Jesus Christ.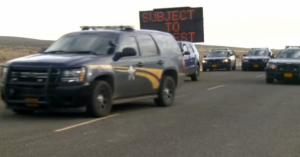 Fry complained about unspecified problems in his personal life, and he touched on his belief in Unidentified Flying Objects.
In addition, Fry talked about his fear of abuse by other inmates if he was imprisoned. Seim assured Fry that other prisoners would view him as a patriot.
Fry also was talking to an FBI negotiator on a second line, and at about 11 a.m. Pacific time, allowed himself to be taken into custody.
Thursday morning's developments followed a series of related events that started late Wednesday afternoon.
─ The Federal Bureau of Investigation surrounded the wildlife center with armored vehicles after an encounter with one of four remaining occupiers, who rode an ATV outside the boundaries set by militia members.
─ Various lawmakers and clergy members announced they would be on site Thursday to try and assist with negotiations between the occupiers and the FBI.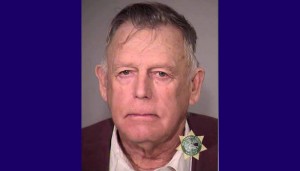 ─ Cliven Bundy ─ the 74-year-old Nevada rancher who is a key figure in disputes between federal agents and the organized group of ranchers and their supporters disputing grazing rights on government land ─ announced Wednesday night on Facebook he was going to the site of the Oregon conflict, and urged his followers to go as well.

─ And Bundy was taken into federal custody after his plane landed at Portland International Airport.
After the final occupiers were in custody Thursday, the FBI released a list of all who on Wednesday were indicted by a Federal Grand Jury in the case of the armed occupation. Those arrested will face arraignment before a U.S. Magistrate Judge in Portland this Friday.
Each subject listed below faces one federal felony count of conspiracy to impede officers of the United States from discharging their official duties through the use of force, intimidation, or threats, in violation of Title 18, United States Code, Section 372.
Dylan Wade Anderson, 34, of Provo, Utah
Sandra Lynn Anderson, 48, of Riggins, Idaho
Sean Larry Anderson, 47, of Riggins, Idaho
Jeff Wayne Banta, 46, of Yerington, Nevada
Ammon Edward Bundy, 40, of Emmett, Idaho
Ryan C. Bundy, 43, of Bunkerville, Nevada
Brian Cavalier, 44, of Bunkerville, Nevada
Shawna Cox, 59, Kanab, Utah
Duane Leo Ehmer, 45, of Irrigon, Oregon
David Lee Fry, 27, of Blanchester, Ohio
Kenneth Medenbach, 62, of Crescent, Oregon
Joseph Donald O'Shaughnessy, 45, of Cottonwood, Arizona
Jason S. Patrick, 43, of Bonaire, Georgia
Ryan Waylen Payne, 32, of Anaconda, Montana
Jon Eric Ritzheimer, 32, Peoria, Arizona
Peter Santilli, 50, of Cincinnati, Ohio