Editor's note: To see Bernie Sanders' Salt Lake City speech, while and after he delivers it, please click on the link above. 
SALT LAKE CITY, Utah, March 18, 2016 (Gephardt Daily) — Chris and Viva Kite drove the 32 miles north from American Fork on Friday to see Sen. Bernie Sanders speak in Salt Lake City.
And they arrived to find themselves in good company.
"It's a bigger turnout than I thought it would be," Chris Kite said. "That line goes out for as far as the eye can see."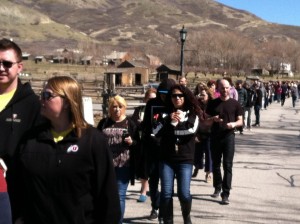 The crowd of thousands turned out to support Vermont Sen. Sanders, the Democratic presidential hopeful up against frontrunner Hillary Clinton.
"Our beliefs align with what he stands for," Kite said, while waiting in line to hear Sanders speak at the This is The Place Heritage Park.
"We're definitely for equal rights, and just feel like he embodies that. He's the real deal. I feel like his track record speaks for itself. He's been an activist since he was in college. He has consistency if you look at his voting record in congress is consistent with where he's standing now, which is huge to me."
Viva Kite agreed.
"I think he has the guts to speak the truth, which a lot of people are afraid to do, and stand up for the people instead of just people who are giving him money," she said. "I think its awesome that so many people came out to support."
Heidi Franke, of Salt Lake City, said Sanders is more trustworthy than the average politician.
"He tells the truth, absolutely, said Franke, a nurse who said she has concerns about the state of healthcare corruption and inequities.
"I know a person who's telling the truth. He's it. He speaks for everybody, not just the elite. He speaks fro the poor. He speaks for all races, and believe it or not, for you and me. For everybody.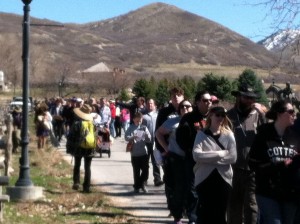 "He's not a politician. I'm surprised he's running. I think if we don't do this now we're going to have a big problem."
Another Sanders fan, a young woman named Taylor, likes the candidate's stance on free college, and said she prefers him to Clinton.
"He's for the people. He wants to help the middle class," she said. "All the people (here) are cool, and Bernie is awesome. I love following Bernie."
Viva Kite, asked what message she would like to send to Donald Trump, laughed out loud.
"Stand down!"