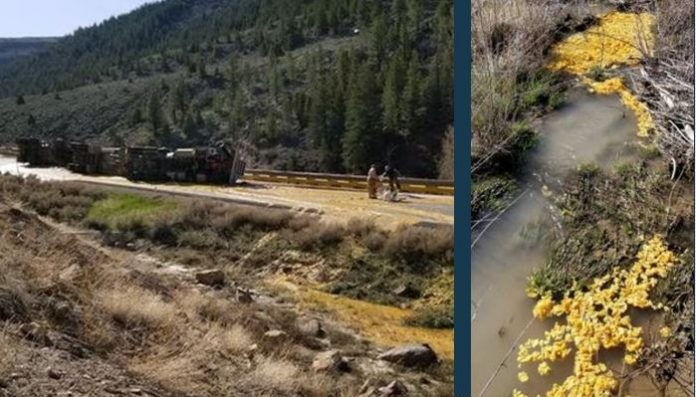 CARBON COUNTY, Utah, May 3, 2019 (Gephardt Daily) — A semi pulling a double trailer rolled in Carbon County on Friday morning, spilling 5,000 gallons of crude oil on U.S. Highway 191, with about half of it spilling into nearby Willow Creek.
The accident happened at about 9 a.m. near mile marker 257, about nine miles north of Helper.
"We have a crude oil tanker that has crashed and leaking crude oil on Highway 191 at milepost 257," said a 9:30 a.m. post from the Carbon County Sheriff's Office. "Please avoid the area while crews try and contain the situation."
The Utah Department of Environmental Quality tweeted that the cool water temperature had turned the oil in the creek into a waxy yellow solid, making cleanup easier.
"BREAKING: Crude oil spill on Hwy 191 NE of Castle Gate. 280 barrels released on the road and in Willow Creek," says a tweet issued at about 11 a.m. Drinking water has not been affected, another tweet says.
"Hazmat has set up containment 5 miles downstream," a subsequent tweet says, adding that water samples were being collected, with results expected on Monday.
The roadway will be closed through Friday and into Saturday, a Utah Highway Patrol tweet said.
Details were not immediately available regarding the cause of the crash or possible injuries.
Below, see a UHP tweet with drone footage of the scene, followed by photos from the DEQ:
Troopers were able to provide some drone video of the scene. pic.twitter.com/wBa9cmvypG

— Utah Highway Patrol (@UTHighwayPatrol) May 3, 2019