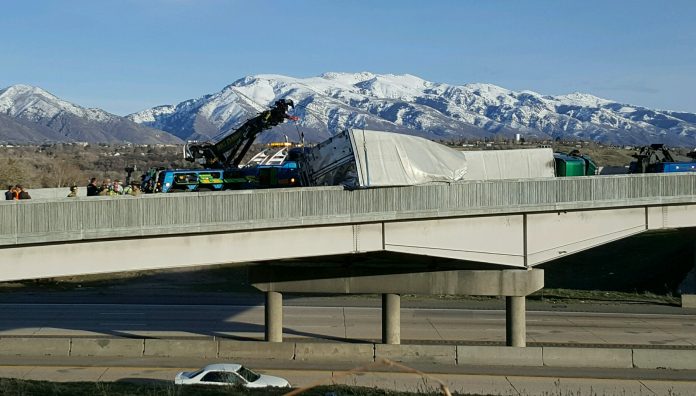 RIVERDALE, Utah, March 12, 2017 (Gephardt Daily) — A semitrailer rolled over late Sunday afternoon where Interstate 84 eastbound splits off from Interstate 15. The ramp is often referred to locally as "Applesauce Corner" because of the frequency of rollovers there when drivers fail to negotiate the curve.
Utah Highway Patrol Sgt. Brandon Whitehead said the accident occurred just before 5 p.m., when the load shifted on the single-trailer semi as it made its way on the ramp.
Whitehead said there were no injuries, but the ramp was closed for about four and a-half hours, finally re-opening at 9:30 p.m., because the many boxes of fries the truck was hauling had to be off-loaded by hand.
The trailer was a total loss, Whitehead said, and the load of fries will probably end up in the landfill.
He said the major cost involved is the damage to the truck and trailer and the cost of salvage efforts. Generally, he said, along with the heavy-duty tow-trucks that handle the tipped semitrailer, trucks are brought in to pick up the load, plus the people to off-load the boxes.
Referring to the ramp's "Applesauce Corner" moniker, Whitehead said it got that name because so many trucks carrying apples from Washington state have had rollovers there. Trucks hauling potatoes from Idaho have been known to tip over there, as well.
"It's a rather sharp corner, but it's better than it used to be," Whitehead told Gephardt Daily. "UDOT put in flashing amber lights and signs (warning drivers of the curve ahead), and it's probably reduced crashes by half."
He said UDOT also redid the bridge a few years ago with a higher barrier to help prevent debris from falling onto the road below.