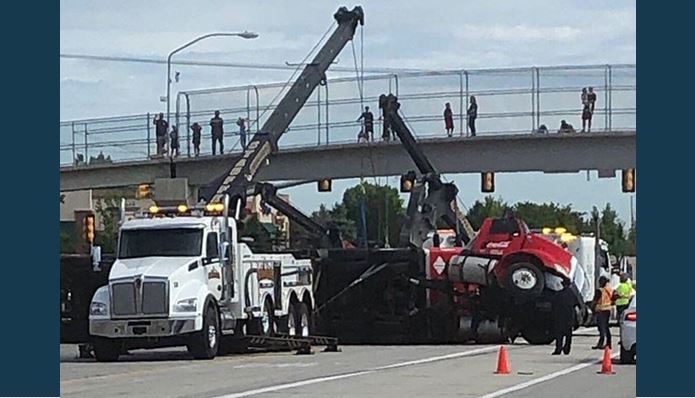 SOUTH JORDAN, Utah, June 14, 2019 (Gephardt Daily) — The southbound lanes of Bangerter Highway were closed for several hours on Friday morning after a semi crashed into a passenger car.
South Jordan Police reported the accident happened about 9 a.m. at Bangerter and 9800 South.
"Based upon witness statements and statements of both drivers, the semi-truck was proceeding southbound on Bangerter Highway and failed to stop for a red light at 9800 South," a South Jordan Police Department statement says.
"As the semi was passing through the red light, it struck an eastbound passenger car. The collision resulted in the semi-truck rolling over."
The driver, a 51-year-old man from Sandy, and his passenger, a 20-year-old man from South Jordan, were checked by paramedics on scene for minor injuries. The car driver was transported to a local hospital for evaluation.
The driver was ticketed for the red-light violation.
"As Bangerter Highway continues to be converted into a freeway-style roadway, we are seeing the speeds increased along the highway coupled with increased red-light violations at locations where signals are still present," said Sgt. Samuel Winkler, SJPD, in a prepared statement.
"Please follow the speed limit and be prepared to stop."
Moving the truck and clearing the scene took until about 11:30 a.m.