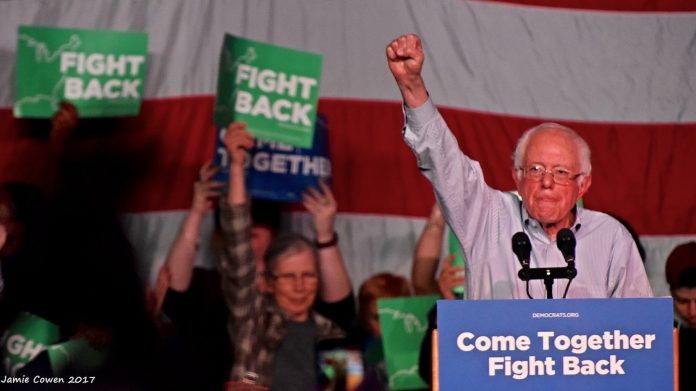 SALT LAKE CITY, Utah, April 21, 2017 (Gephardt Daily) — The 2016 presidential election cycle may have ended on Nov. 8., but the echoes of the campaign were heard loud and clear in Salt Lake City on Friday as Bernie Sanders rolled into town.
"BER-NIE, BER-NIE, BER-NIE!," chanted the estimated 3,000 Sanders followers who packed The Rail performance center on the city's near west side to hear their man once again lay the hickory to the Donald Trump machine.
"They told me Utah was a conservative state," said Sanders. "It doesn't look like that tonight," he said, laughing with the crowd. "This is an extraordinary turnout."
Salt Lake City was the latest stop on the "Bernie Sanders & Tom Perez Come Together/Fight Back" tour — aimed at making President Donald Trump accountable for his actions and getting people to call their state representatives and make their concerns known, according to the tour website.
"I want to make this as a clear as I can: This is not about Bernie Sanders," the former candidate said. "… this is about you, your children, your parents, and the environment. We are going to stand up and fight back, and that is what this is about."
"I understand there are differences between Vermont and Utah," Sanders said. "Our maple syrup is better. Your mountains are a bit higher. But, at the end of the day, we are all human beings, and we all have the same needs."
Sanders acknowledged that Utah is an overwhelmingly Republican state.
"… which puts you in a great position," he joked. "You have no place to go but up … The truth of the matter is, if we can bring our brothers and sisters into a grassroots political movement, I do believe we can win, here, in Utah."
The bulk of Sanders' speech was about the amount of damage he said Trump already has done to the U.S. economy, and to middle class and poor Americans.
Trump and Speaker of the House Sen. Paul Ryan have pushed to replace the Affordable Care Act with a Republican alternative plan that would cut health care for 22 million citizens, and result in $300 million in tax cuts for insurance companies and some of America's richest business people, he said.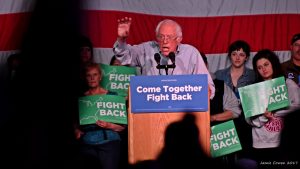 Sanders said the Walton family, owners of Walmart, has more wealth that the bottom 42 percent of Americans, yet pays such low wages that many of its employees qualify for and need food stamps and subsidized housing, funded by American taxpayers.
"We have not just an economic crisis, we have a moral crisis," Sanders said. "How can we sustain our great nation when so few have so much, and so many have so little?"
Sanders said the top one-tenth of 1 percent of people own the same percent of wealth as the bottom 10 percent of Americans. And if Trump gives tax breaks to the richest people and corporations, he hurts a large percentage of middle and lower class Americans, Sanders said.
"It's easier to go after poor people than people who have the money and power," Sanders told his listeners.
Trump has proposed cutting funding to Meals on Wheels, Sanders said, which would cost many elderly people their only nutritious meal of the day, and likely force some of them into institutional care or starvation, he said.
Trump's proposed budget would also cut funding to the WIC (Women, Infants and Children) program.
"You don't give tax cuts to millionaires and cut back programs for little children," Sanders said.
With Trump's election, the only way left for voters to fight for decisions that reflect their values is to actively share their wishes with the leaders their states elected to Congress, the Senate, and lower offices, Sanders said.
He knows people have protest fatigue, and the feeling that opposing Trump cannot change anything, Sanders said.
But American history is full of difficult battles that were won, he said.
Among those battles — which were not easy, but were well worth the fight,  Sanders said — were the fights for a woman's right to vote, against racial segregation, and for gay marriage.
"Please be involved in every way you can," Sanders told his local listeners. "Please have the courage to take on powerful interests. Once we can do that, we can create the nation we all want to become."
"If you can do it here, and I believe you can, there is not a state in this country where we cannot do it."