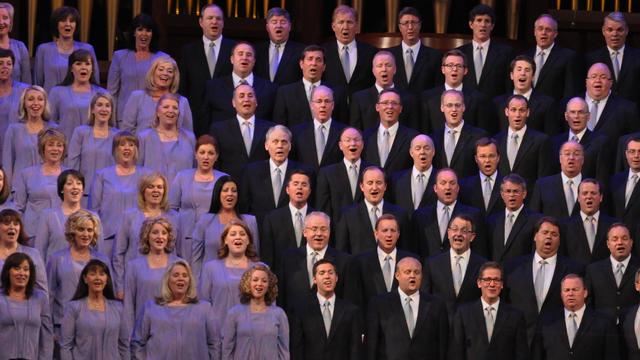 SALT LAKE CITY, Utah, Feb. 8, 2016 (Gephardt Daily) — Locations have been announced for the 2016 Mormon Tabernacle Choir European tour, the first of its kind in 18 years.
The choir and its companion ensemble, the Orchestra at Temple Square, will visit seven cities in Europe this summer.
The tour will include stops in Berlin, Nuremberg, Vienna, Zurich, Frankfurt, Brussels and Rotterdam from June 27 through July 16, 2016. It will feature more than 320 voices from the world-renowned choir and members of the Orchestra at Temple Square.
Choir president Ron Jarrett said in a news release one of his primary goals when he took the helm of the choir in 2012 was to have the choir perform internationally again.
"Through social media we have been able to reach audiences far and wide. Now with this tour, we are thrilled that for the first time in nearly two decades international audiences will be able to enjoy the music of the choir in person.
"With the challenges of today's world, we are excited to share the joy and peace the music of the choir brings, which knows no boundaries of age or nationality."
President Thomas S. Monson of The Church of Jesus Christ of Latter-day Saints said of the choir: "Our goal is for the choir and its companion Orchestra at Temple Square to be a shining example of the musical arts to all the world.
"With the announcement of this European tour, I am delighted that these noted ensembles will have the opportunity to touch the hearts of people in multiple nations through their magnificent music."
The Mormon Tabernacle Choir first traveled to Europe on a seven-week concert tour in 1955. Since that first tour, the choir has toured there four other times: to western and central Europe in 1973, northern Europe in 1982, eastern Europe in 1991 and southern Europe in 1998.
The choir and orchestra usually tour every two years and returned last July from a tour to the U.S. Atlantic Coast.
When performing at home with its full complement of members, the 360-voice choir, accompanied frequently by the 200-member orchestra, can be heard weekly as part of the "Music and the Spoken Word" broadcast. The 30-minute program is the world's longest continuing network broadcast and airs on more than 2,000 radio, TV, cable and satellite stations worldwide.
The choir and orchestra are active recording artists with their own recording label, Mormon Tabernacle Choir. They will release a new full-length recording of Handel's "Messiah" on March 4, 2016 prior to the European tour.
Tickets for the summer tour are available from www.mormontabernaclechoir.org/tour.