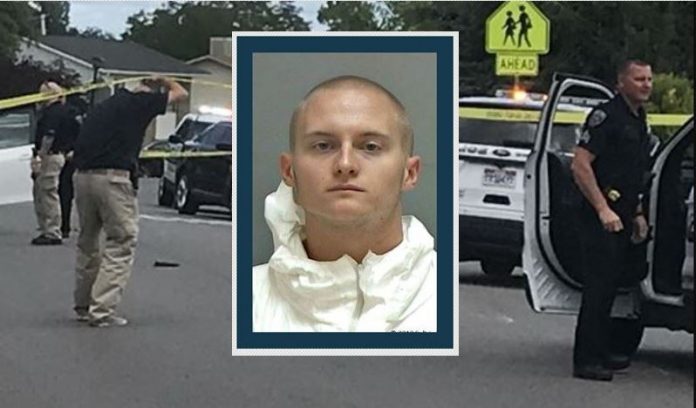 KEARNS, Utah, June 21, 2018 (Gephardt Daily) — Unified Police officials have made an arrest after a man was shot in the midsection when he picked up another man in his car in Kearns on Tuesday.
Ty Wayne McBride, 19, of West Valley City, has been booked into the Salt Lake County Jail, the UPD tweeted Thursday evening.
The victim, who was taken to Intermountain Medical Center in very critical condition, has been identified as 23-year-old Devin Stanfill.
A woman who saw the victim on the road, beside his white car, called officials to the scene, near 5887 Copper City Drive, at about noon, said UPD Sgt. Melody Gray.
Before Stanfill went to be prepped for surgery, he was able to tell police he was shot by a white man who had blue eyes, was bald, and went by the name Ty.
Gray said there was also a domestic incident in Taylorsville earlier involving Stanfill, but it appears to have been unrelated.
Police undertook a canine-assisted search of the neighborhood, but at that time did not locate the suspect.
UPD did not release further details Thursday evening of how the suspect was located, or the events leading up to the shooting.
As of Thursday at 10 p.m., there is no mug shot available of McBride, as he has not been booked.