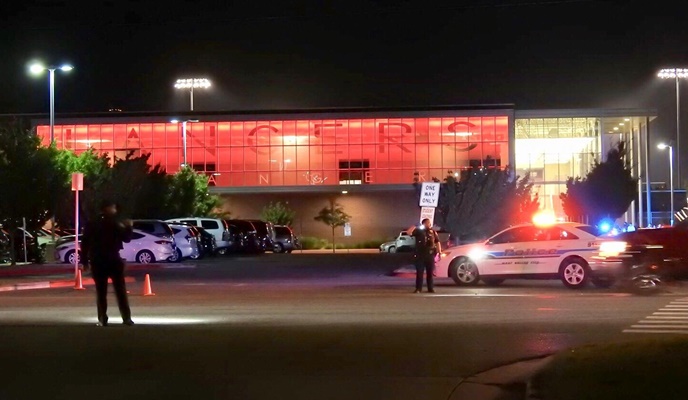 For an updated story, click here.
WEST VALLEY CITY, Utah, Sept. 13, 2019 (Gephardt Daily) — Police from Granite School District are investigating an incident in which shots were fired Friday night during a football game at Granger High School.
Ben Horsley, Granite School District spokesman and Granite Police Department public information officer, said there was a "small altercation" at about 8:45 or 8:50 p.m., late in the third quarter of the football game.
The altercation took place about 100 yards away off the stadium, so it was unrelated to the football game itself, Horsley said.
"It appears to be gang-related, individuals completely unaffiliated with the school or any of our schools or the district," he said. "They came onto campus, had that altercation, and at one point, someone pulled out a weapon and fired off two rounds.
"It appears those might have been forced into the ground because of the close proximity of the shell casings to the incident — perhaps warning shots of some sort."
Horsley said officials are still trying to determine what the motive was in drawing the weapon.
"Fortunately, nobody was injured," he said. "The police were about 20 yards away and approaching the altercation itself, coming over to break it up, when the shots were fired, and the individuals involved fled."
Horsley said eight people were detained; however, it wasn't clear yet whether two of those individuals were actually involved in the incident. He said they appeared to be fleeing the scene.
Officials are double-checking area hospitals for anyone who may have been injured by the gunfire, Horsley said, but he repeated that it appears the shots were fired into the ground.
He said anyone believed to have participated in the incident will likely face charges of having a deadly weapon on a school campus; firing a deadly weapon on campus; assault; and "potentially other charges that are more minor."
Horsley expressed gratitude on behalf of the school district for the assistance of West Valley City Police officers who responded immediately and closed the loop at the end of Lancer Lane, helping to keep the suspects from getting away.