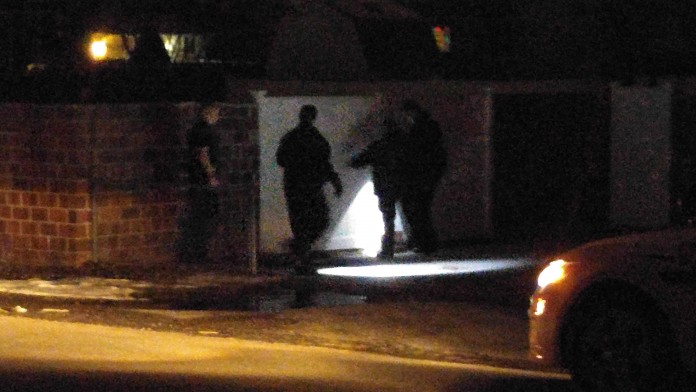 SALT LAKE CITY, Utah, Dec. 19, 2015 (Gephardt Daily) — Unified Police officers are still looking for a suspect after shots were fired at one—possibly two—homes Saturday night following an alleged domestic dispute.
According to Salt Lake City Police Department Lt. Andy Oblad, a 911 call was received from someone who witnessed a man assaulting a woman in the front yard of a home near the area of 800 North 1800 West in Salt Lake City.
Oblad said once the woman went inside, the man fired six shots at the house, one of them piercing the front door.
The man drove off, but later returned to the house and fired several more shots. Then, for an unknown reason, the woman came out of the house and left with him.
Oblad said the vehicle they left in is registered to a woman who lives near 4360 South and 900 East in Millcreek.
Unified Police Department Lt. Bill Richardson said dispatchers received several calls of multiple shots fired near the same Millcreek location around 10 p.m.
When they arrived at the home, officers found multiple bullet casings and damage to the home from nearly a dozen bullets fired from a handgun.
Police are currently searching for both the man and the woman, and are still trying to determine exactly what happened.
"We do not want to name a suspect at this time," Richardson said, "We have not confirmed anything and are still following up on leads."
"If we get lucky, we may be able to make some arrests tonight, but the investigation could continue for the next several days," Richardson said. "We think it's directed here for a couple of different reasons, and we do not feel at this time the community is in any danger."
Richardson said they are still trying to piece the two incidents together to see if and how they are related.
This is a developing story.  It will be updated once more information becomes available.