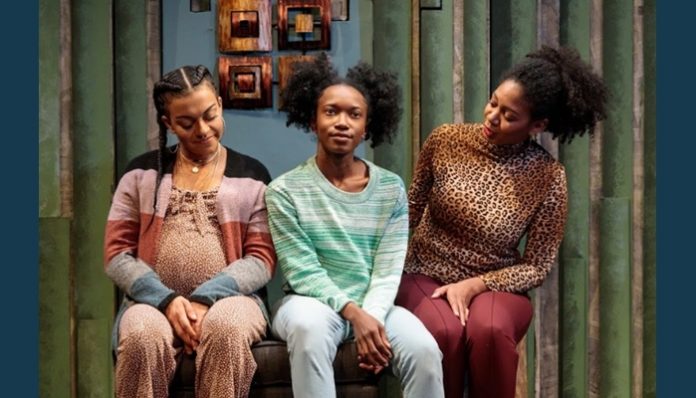 SALT LAKE CITY, Utah, Nov. 3, 2019 (Gephardt Daily) — It's fairly unusual that I would strenuously recommend seeing a show based just on one performance, but that is the case for Salt Lake Acting Company's current world premiere, "form of a girl unknown."
The play, by Charly Evon Simpson, is an atypical coming-of-age dramedy being produced in SLAC's Upstairs Theatre through Nov. 17.
Amali is a 12-year-old girl who finds herself on the edge of womanhood, and is having trouble navigating her new world. Her mom is always busy and her sister is about to have a baby of her own. Her friend, Marina, has ditched her, but her new best friend, Finn, is always there to listen — until he can't take it anymore. Her fascination with her changing body is one thing, but her fascination with the story of siblings killed in the woods is another thing entirely.
"form of a girl unknown," received a week-long workshop at Salt Lake Acting Company last year, culminating in a sold-out reading.
I was extremely surprised to hear that New York-based actor Amanda Morris, who plays Amali, did not play the role during the workshop. The part seems to be written just for her. It's a tricky role. Amali is loquacious, hyper-intelligent and often verbose, but in a 12-year-old way, so large swathes of her dialogue are driven really only by her own need to be heard. It's as though she's carving out her space in the world word by word to anyone who will listen. The way Morris plays her though, has the audience hanging onto her every word — we really care what she thinks about the one million things she ponders over, and that is because SHE, the character, cares. Her words help her navigate her way forward into adulthood; she is forming herself with what she puts out verbally into the world.
It's an interesting choice by Simpson to almost underwrite some of the other characters — they are written as if through Amali's eyes. So, for example, her mom (called simply Ma), played by Latoya Cameron, her guidance counselor Dr. G, played by Susanna Florence, and her sister Charise, played by Aaliyah Ann, are not fleshed out beyond how Amali would perceive them. We don't learn much about their lives other than how they relate to her. They are all nuanced performances for sure, but they don't have masses to work with.
The characters who play Amali's friends are more fleshed out. Bradley Hatch plays her best friend, Finn, and Daisy Allred plays her former best friend, Marina. Allred is fun to watch, but I would have liked to have seen Hatch dig a little deeper. He has the most scenes with Morris and he doesn't find all the layers that she does.
The production is helmed by Lark and WP Theatre alum Melissa Crespo, who is joined by a rather brilliant creative team. The scenic design by Shoko Kambara is one of the best I have seen at SLAC; the set looks like a wall of bamboo, which pops open at times to reveal different set pieces, then ultimately opens further into the forest that Amali is so curious about. I feel like Marie Kondo would love this set.
The lighting design by Jessica Greenberg particularly shines in this forest segment. The costumes by Alicia Washington, sound design by Jennifer Jackson, and specialty prop design by Linda Brown are also sound.
The play has been produced through a partnership with The David Ross Fetzer Foundation for Emerging Artists (aka The Davey Foundation), and was also one of two of Simpson's works named on the 2019 Kilroy's List, which features "highly recommended un- and under-produced new plays by woman, trans, and non-binary authors."
I think what I most respected about this play is that it really does chart new territory. Amali's voice is completely unique, and because of this, her coming of age tale is something we've never seen before.
"form of a girl unknown" runs through Nov. 17 at 7:30 p.m. Wednesday through Saturday, and Sunday at 1 p.m. and 6 p.m. Tickets are $15 to $46, available by phone at 801-363-7522, or online here. SLAC is at 168 W. 500 North, Salt Lake City.