SALT LAKE CITY, Utah, Feb. 21, 2021 (Gephardt Daily) — Salt Lake County Health Department announced Sunday afternoon that residents age 66 and older can sign up for a vaccine beginning at 6 p.m.
Gov. Spencer Cox on Thursday said in a press conference Thursday that Utahns age 65 through 69 are eligible to receive the COVID-19 vaccine, as soon as they can book appointments.
The age-based availability expansion, previously set for March 1, was moved up because of an increase of vaccine doses delivered to Utah.
On Friday, Salt Lake County Health Department tweeted: "Salt Lake Health is using age-based phases to determine access to the #COVID19 vaccine registration form. This helps ensure those most at risk can secure appointments."
On Thursday, residents ages 69-plus could register, then on Friday, residents ages 68-plus could register, on Saturday, residents ages 67-plus could register, and Sunday, residents ages 66-plus could register, all after 6 p.m. On Monday after 6 p.m., those 65 and older can register.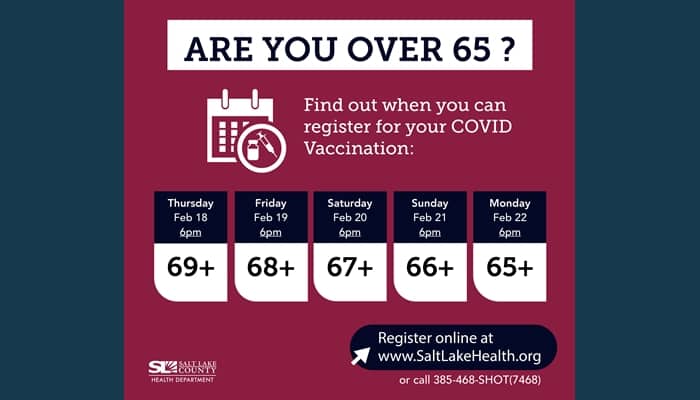 The health department tweeted Sunday afternoon: "Today, Feb., 21 at 6 p.m., all #SLCo residents ages 66+ may register for a #COVID19 vaccine appointment. Vaccination is a key step to ending the pandemic — sign up as soon as you're eligible. Register here or by calling 385-468-7468."
For younger citizens suffering from specific comorbidity conditions, the planned vaccine eligibility date remains March 1. Qualifying conditions include solid organ transplant, certain cancers, weakened immune systems, severe kidney disease, uncontrolled diabetes, extreme obesity, chronic liver disease, chronic heart disease other than hypertension, certain chronic respiratory diseases excluding asthma, neurologic conditions that impair respiratory function, and stroke and dementia.
To visit the state's COVID-19 information site, click here.
Appointment availability will vary throughout the state. Visit your home county's Health Department website for scheduling information.