SALT LAKE CITY, Utah, Feb. 6, 2023 (Gephardt Daily) — Salt Lake City police recovered two guns after an alleged road-rage incident Monday morning.
Suspect Michael Motta, 31, was arrested after a victim called dispatch at 3:07 a.m. and reported that the suspect, seated in the backseat of a white Subaru, had pointed a pistol at him during the incident, in the area of 800 W. North Temple.
Motta "was located in the backseat of the vehicle and in possession of two firearms, one being a rifle and the other being a handgun," his probable cause statement says.
"Post Miranda, AP (arrested person, Motta) admitted to ingesting marijuana prior to this incident. Through my training and experience, the AP did appear to be under the influence of said substance."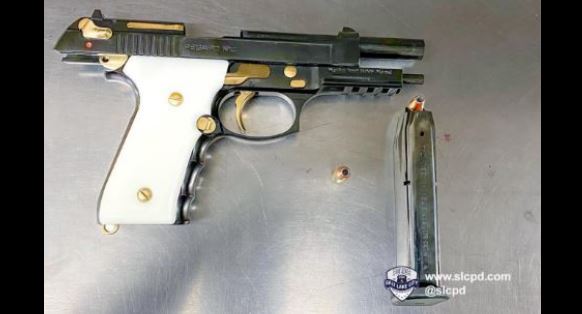 Motta was booked into jail on suspicion of aggravated assault and purchase/transfer/possession/use of a firearm by a restricted person, both third-degree felonies.
Motta's bail was set at $5,000.
Officers also detained two other people from the white Subaru. The driver, 35-year-old Robert Kimsey, was booked into the Salt Lake County Metro Jail on outstanding warrants. The third person was released.
Chief Mike Brown, SLCPD, said the officers did a "phenomenal job."
"Reducing gun violence is at the forefront of our police department, and this case highlights the great police work of our officers who have a deep commitment to the safety of our community."