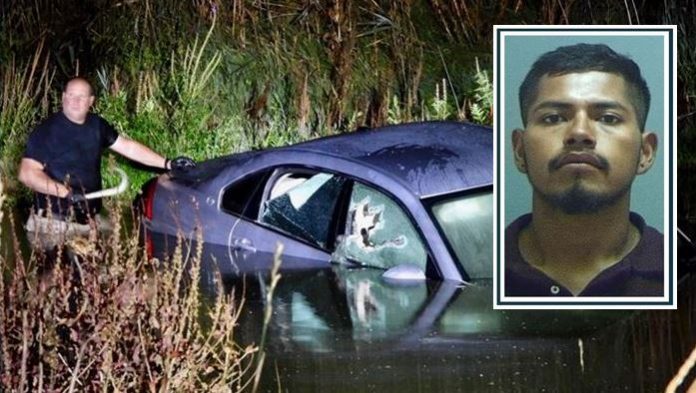 WEST BOUNTIFUL, Utah, Oct. 4, 2019 (Gephardt Daily) — Salt Lake City police have identified the suspect in a case that began as a shots-fired call, turned into a high-speed chase, and ended with the fleeing man's car in a West Bountiful canal.
Luis A. Gomez-Lopez, 26, was booked into the Salt Lake County Jail, and has been charged on suspicion of:
Two counts of distributing/offering/arranging distribution of a controlled substance, a second-degree felony
Failure to stop at the command of police, a third-degree felony
Failure to stop at the command of law enforcement, a class A misdemeanor
Salt Lake City Police Lt. Carlos Valencia told Gephardt Daily police were called to a neighborhood near 700 W. Jackson Ave. about 9:45 p.m. Thursday with reports of shots fired. Moments later, a Salt Lake City police sergeant spotted the vehicle, and the chase was on.
"Officers attempted to conduct a traffic stop on the vehicle A/P (accused person) intentionally fled from them in the vehicle," the probable cause statement says.
The suspect, later identified as Gomez-Lopez, headed north, making his way through multiple jurisdictions with speeds ranging from 80 to 90 mph.
After about 15 minutes, the pursuit came to an abrupt end when the suspect's vehicle ran off the road and into a canal west of the Legacy Highway about 1200 North.
Officers arriving at the accident site spotted the vehicle bobbing in the water. They then saw the suspect as he bounded from the pond and darted into a patch of tall weeds.
"After a pursuit of the vehicle A/P wrecked, got out on foot and then intentionally fled from officers once again to escape arrest, failing to stop at both verbal and visual commands of law enforcement," the statement says.
K-9 units were called in and within a matter of minutes, Gomez-Lopez was taken into custody.
Police investigators went into the water and recovered a plastic bag containing drugs and money.
"During the investigation, distributable amounts of FTP methamphetamine and FTP heroin were located along with a sum of cash," the probable cause statement says.
"A/P admitted post Miranda to the possession and distribution of the methamphetamine and heroin that was located, and also admitted that half of the cash located was a result of drug distribution."
Bail for Gomez-Lopez was set at $10,000.