SALT LAKE CITY, Utah, March 16, 2023 (Gephardt Daily) — A suspect has been booked into the Salt Lake County jail after police say he crashed his car into a parked SUV, then fled the scene while holding a knife.
Arrest documents for Daniel Ferry, 42, say he hit the vehicle near the intersection of 500 N. 1400 West.
"Upon exit, AP (arrested party) fled from the scene and was chased by individuals who attempted to help him," says his probable cause statement, filed by an officer of the Salt Lake City Police Department.
"AP was last seen covered in blood. During AP's attempt to flee, AP entered a business at 1260 W. North Temple Street and presented a knife and demanded people in the business give him keys to a car. AP got frustrated and then exited the building eastbound."
Ferry allegedly told people inside the business he assaulted his girlfriend and needed a car in order to get away.
Officers located and arrested Ferry. Paramedics took Ferry to the hospital for treatment of a self-inflicted neck injury.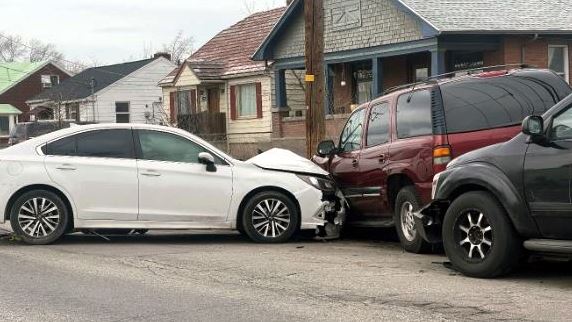 Investigators later confirmed Ferry had not assaulted a girlfriend or anyone else, an SLCPD news release says.
The initial accident happened Tuesday, and Ferry was arrested Thursday after being released from the hospital, police documents say.
Ferry faces charges of:
Aggravated robbery use or threatened use of a weapon, a first-degree felony
Two counts of failure to stop at command of a law officer, a class A misdemeanor
Fail to notify of accident with unattended vehicle, damage, a class B misdemeanor
Ferry was ordered held without bail.