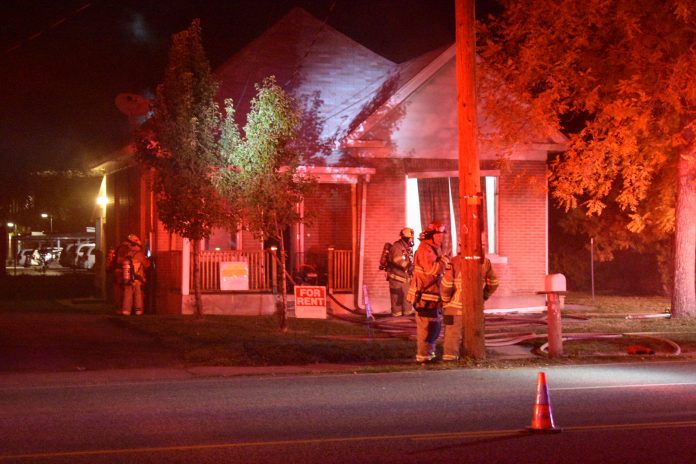 SALT LAKE CITY, Utah, Oct. 7, 2017 (Gephardt Daily) — It took a bit of work, but fire crews were able to track the smell of smoke Saturday night to a structure fire near 1500 East and 3300 South.
Unified Fire Authority Battalion Chief Matt Rhoades said crews were responding to a call about the smell of smoke at a different address two or three blocks away. When they didn't find anything at that location, "they kind of worked their way back here and actually stumbled across it," Rhoades said.
The structure that was burning turned out to be an unoccupied house that's for rent.
"Once they figured it out, the captain called for a full assignment," Rhoades told Gephardt Daily. "Crews went in real quick. It was a fairly small fire, and they got it knocked down quick."
The fire appeared to be in the floor, but Rhoades said it could have started in the basement or basement ceiling. That's what investigators will be finding out.
Rhoades didn't have a dollar estimate of damage to the home, but said it was fairly minimal because there was no furniture and no occupants. He said there was no structural damage, and the fire was contained to the home's interior.
Crews from Firehouse 106 in Millcreek responded, and Rhoades credited their ability to track the smoke and respond quickly in keeping the damage to a minimum.
"Firefighters are good at attention to detail," he said. "We pick up on a lot of things…on medical calls, fire calls, and we pay attention to things people don't normally pay attention to.
"The crews did a good job and were super quick on the fire attack."