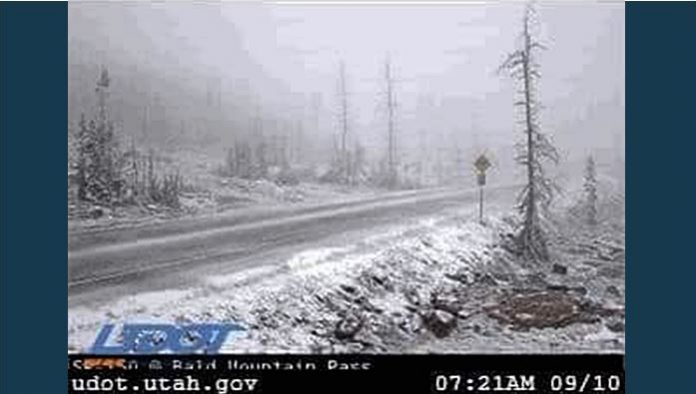 UTAH, Sept. 10, 2019 (Gephardt Daily) — The autumn equinox is still 13 days away, and winter is not due until Dec. 21, but snowflakes flew in the Bald Mountain area of Mirror Lake Highway overnight.
Officials from the Uintah-Wasatch-Cache National Forest tweeted the visual evidence Tuesday morning.
"Heber-Kamas Ranger District, photo taken this morning of Bald Mountain area on the Mirror Lake Highway," says the 8:45 a.m. Tuesday tweet, accompanied by a snowy picture from Bald Mountain Pass. The photo was captured by a Utah Department of Transportation traffic camera.
The snowy area pictured is about 72 miles east of Salt Lake City and about 48 miles south of Evanston, Wyoming. And Bald Mountain Pass is at about 10,715 feet elevation, whereas Salt Lake City is at 4,226 feet elevation.
So snow may not be right around the corner for the lower-lying, more populous areas of Utah. Salt Lake City's average first snow falls Nov. 6.
To check out the National Weather Service's forecast for your area, click on one of the following links: Logan, Salt Lake City, Central Utah, Moab area, or St. George.