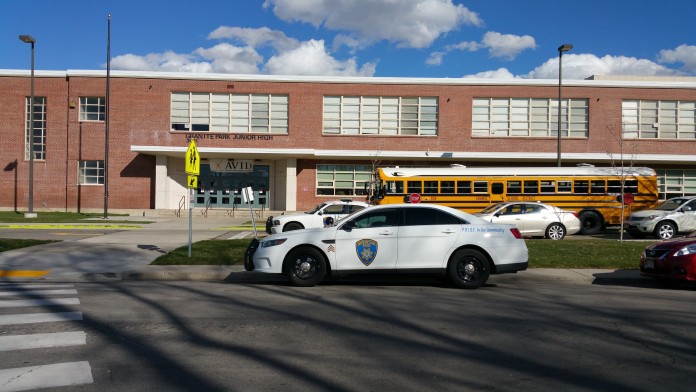 SOUTH SALT LAKE, Utah, March 17, 2016 (Gephardt Daily) — Granite Park Junior High School was placed on "soft" lockdown before school let out Thursday because of a man barricaded in his house nearby.
South Salt Lake police said the man, whose home is in the area of 3100 South and 300 East, was in mental distress and was believed to be suicidal. Because police thought the man might have been armed, schools were notified to take precautions.
Granite School District spokesman Ben Horsley said the district was notified of the situation by police at around 1:45 p.m.
"It created kind of an unsafe situation for kids to be able to walk home, so we put the school on soft lockdown protocol which means school continues as normal, but we don't allow people to come in from off campus," Horsley said.
"It became clear that the incident was going to continue on after school had ended."
Horsely said the school waited until enough staff was available to walk students home before releasing students.
Students who attend Wilson Elementary School and live near the area of the incident were shuttled by bus to the junior high school and were then also walked home with staff.
The man is now alone inside his home, and police are monitoring the situation away from the scene.
Gephardt Daily does not usually report on suicidal individuals unless there is some impact to the public–in this case, the soft lockdown.