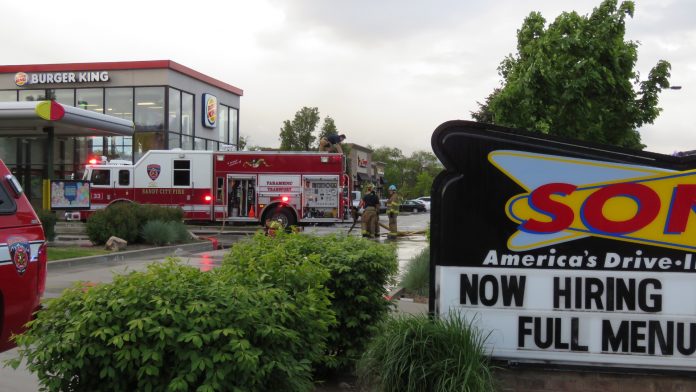 SANDY, Utah, May 17, 2016 (Gephardt Daily) — An ice cream machine caught fire at a Sandy Sonic Drive-In on Wednesday evening, causing $50,000 to $60,000 in damages, according to officials.
Chief Matt Stuebner, Battalion Chief for Sandy City Fire Department, told Gephardt Daily crews received a report of a commercial structure fire at a Sonic Drive-In at 10225 S. State St. just after 7 p.m.
He said Sonic staff had found that an ice cream machine was on fire. They followed protocol from that point and evacuated the building, then called 911.
On arrival, crews found smoke coming out of the building, Stuebner said, so firefighters went into offensive mode and entered the structure with a hand line to investigate.
"Crews were able to find and isolate the fire quite quickly, prior to it spreading into the structure itself," Stuebner added. "We were able to do a quick primary search of the structure. We were able to ventilate it and check air monitoring to ensure that the air was clear. As of now we are estimating about $50,000 to $60,000 worth of damages, just due to the ice cream maker itself and smoke damage, and some water damage of course."
Nobody was injured during the incident.