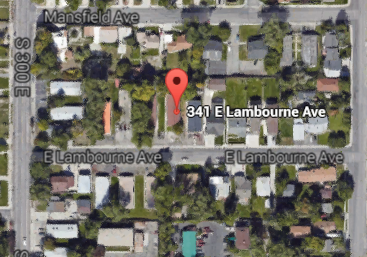 SOUTH SALT LAKE, Utah, Dec. 9, 2015 (Gephardt Daily) — An early morning fire Wednesday in a South Salt Lake fourplex is being blamed on a candle left burning when residents fell asleep.
"The candle started some combustibles, cardboard boxes, on fire," said Eldon Farnsworth, battalion chief at the South Salt Lake Fire Department, on Wednesday morning. "It severely damaged that one unit, and we are working to get power restored to the other units."
The fire, at 341 E. Lambourne Ave., was reported at about 5 a.m., and three engines, two ladder trucks and two ambulances responded, Farnsworth said. No one was injured, but two residents were displaced by the fire. About $50,000 in damage was caused.
Farnsworth said safe candle use is important during the holiday season, when more candles may be used.
"Keep them in sight, and put them out if you will be going to sleep," he said.
Farnsworth estimated overly dry Christmas trees cause only one or two fires per year in the Salt Lake Valley. Far more common during the winter season is fires related to fireplace use.
"This is the time of year when people start using their fireplaces more, and they put their ashes in garbage cans, and ashes can be hot a day or two after the fire has been put out," Farnsworth said. "That heat source can cause fires to kick back up, and cause more things to burn."
Farnsworth said people can make careless mistakes in any season, "but it seems like a lot happens this time of year," he said. "It takes away from Christmas, and it can take away people's lives."