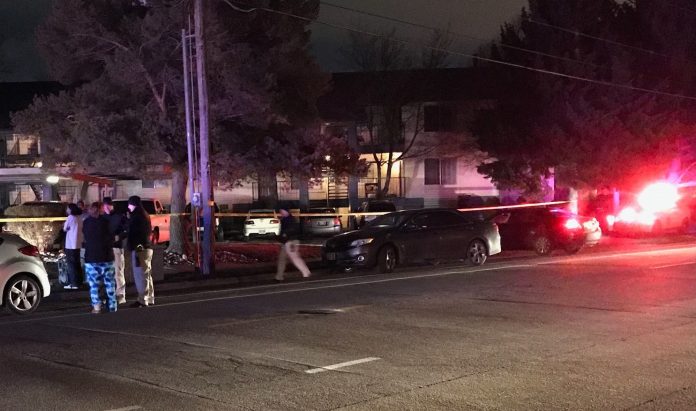 For an updated story, click here.
SOUTH SALT LAKE, Utah, March 3, 2018 (Gephardt Daily) — One person is dead and two others critically injured after an early morning shooting in South Salt Lake.
Police were first called to the Mountain Shadows Apartments, at 3767 S. 700 West, at about 3:37 a.m. after shots were fired at a party.
Officers from South Salt Lake, Unified Police, Salt Lake City, Sandy, West Valley City and the Utah Highway Patrol converged on the scene and set up a four square-block containment area while searching for two suspected shooters.
Investigators used dogs to track the suspects and reported finding multiple blood trails in the surrounding neighborhood.
Just before 6 a.m., a man matching the description of one of the shooters was detained in the vicinity of 3200 South and the Jordan Trail Way near 1300 West, although police are not yet naming him an official suspect.
Police say the deceased is a male, but they did not know his age.
Those wounded were described as a 25-year-old male in critical condition and a 19-year-old female in serious condition.
Gephardt Daily was the only media outlet at the scene in the immediate aftermath of the shootings.
We will update this developing story as more information becomes available.