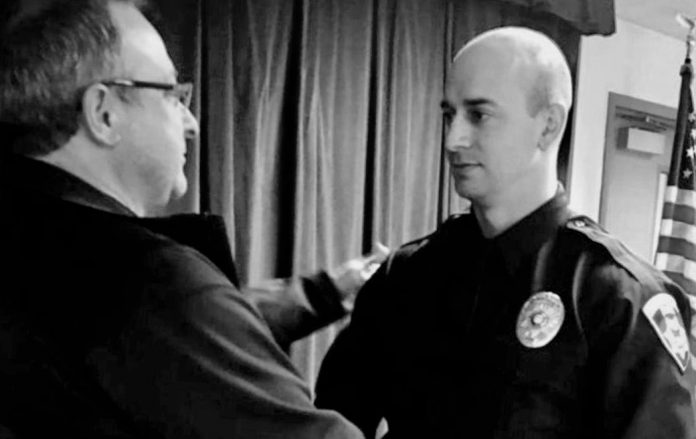 SOUTH SALT CITY, Utah, Nov. 25, 2018 (Gephardt Daily) — A South Salt Lake Police officer has been killed in the line of duty.
Officer David Romrell, 31, died Saturday night after being run over by two burglary suspects outside a business near 3575 South and West Temple Street.
The driver of the car was shot and killed by police. The second suspect ran from the vehicle, but was arrested a short while later in a nearby neighborhood.
South Salt Lake Police Chief Jack Carruth said Romrell was rushed to Intermountain Medical Center in Murray where he died from his injuries while undergoing emergency surgery just before 10 p.m.
Romrell joined the South Salt Lake Police Department in January 2018.
The Marine veteran is survived by his wife and 4-month-old child.
"As much as we know the risks of this job, we are not prepared for this," said Carruth, holding back tears. "It's been very, very painful."
After his passing, Romrell's body was escorted by a massive police motorcade from IMC to the Office of the Medical Examiner in Taylorsvile.
Funeral plans are expected to be released early next week.
Gov. Gary R. Herbert issued the following statement regarding the death of Romrell:
"Jeanette and I join the entire South Salt Lake Police family in mourning the death of one of our finest, Officer David Romrell. He was exemplary in every way, and I feel humbled by the service he gave his country as a Marine, as well as the service he gave our communities here in Utah. We mourn with and for Officer Romrell's dear family, and we pray that they may find peace in the midst of this heartbreak."
The governor will order the lowering of the flag of the United States and the flag of the state of Utah on the day of Romrell's funeral.