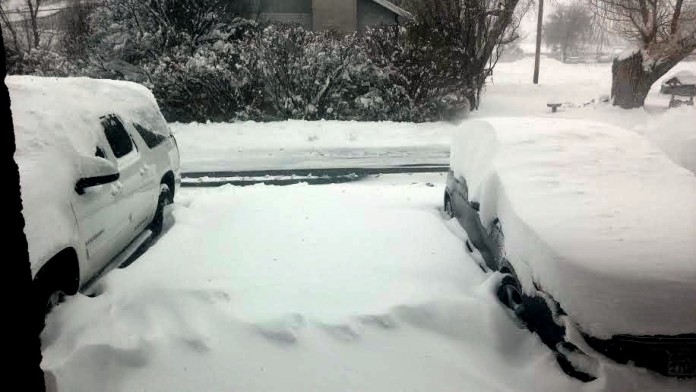 CEDAR CITY, Utah, Feb. 1, 2016 (Gephardt Daily) — The duty fell upon Shannon Dulaney to make a decision no superintendent in her district had faced so seriously in roughly three generations.
Dulaney ─ superintendent for Iron County's three high schools, two junior highs, nine grade schools and various academy and alternative schools ─ on Monday morning declared the first snow day the district had seen in more than six decades.
"It's been 61 years that we could count," Dulaney told Gephardt Daily. "It could be longer than that.
"We got about two feet of snow overnight, and it's still coming down sporadically. It's supposed to snow until 11 p.m. I've lived here for about 18 years, and it's the most snow I have ever seen."
Dulaney said she's pondered weather closings before.
"There were a couple of days where it was iffy and we contemplated calling snow days," she said. "But when the buses can get out and the snow is cleared, the safety of families isn't in question.
"But the plows had not been out," Dulaney said of the Sunday night to Monday morning period. "They were busy all night on I-15, and the local roads were still covered in snow. It was quite treacherous."
The Iron County School District has about 8,700 students, Dulaney said, and the county covers and area of about 3,302 square miles. That works out to about 2.6 students per square mile.
"We've got them all the way out to Enterprise going west, and up north to Parawan," Dulaney said. "That's quite a large geographical distance we cover."
The Salt Lake City School District, the state's most urban district, serves about 24,650 students, and covers an area of 110 square miles. That works out to 224 students per square mile.
Dulaney and her transportation manager made the decision at about 5:15 a.m. Monday, and notified administrators, television and radio stations, and put the message out on the district's emergency notification system and Facebook page.
Only a small percentage of parents didn't get the message, and drove their children in. Administrators met them and gave them the closure news.
Dulaney said she expects school to be back in session Tuesday, and a meeting Wednesday will determine when students will make up the day missed due to snow.
No snow days were built into the calendar, which only makes sense after no need for the better part of a century.
Dulaney said she spent her surprise snow day studying education legislation that will come up at the Legislature.
Beaver County
The Beaver County School District, which also closed schools Monday, reports its last snow day was either in the 1982-1983 school year or never. It depends on who you ask.
"Our board member Nicholas Dotson said he don't remember a snow day in his life, and he's in his 70s," said Bonnie Bairett, district administrative assistant.
"He said it's possible that there was one in the 1982-'83 school year, but he doesn't recall for sure. And no one else remembers us having any snow days."
Piute County
The Piute County School District was closed Monday, according to a recorded message, which said school would be held on Tuesday. No administrators could be reached by phone.
Southern Utah University
SUU also declared a snow day, and put a note on its web page saying school would be open again on Tuesday. No school representatives could be reached by phone on Monday.