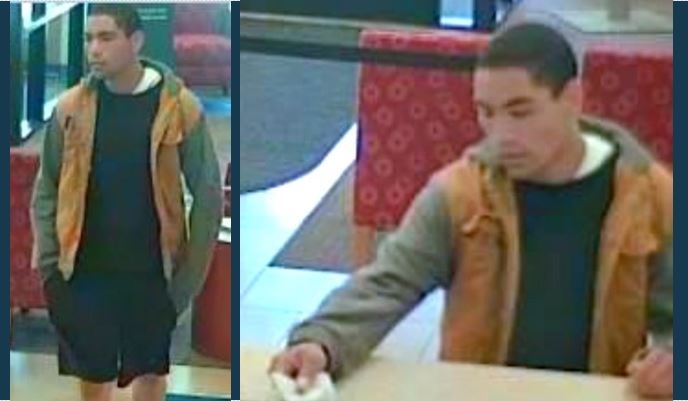 SPANISH FORK, Utah, May 20, 2017 (Gephardt Daily) — The Spanish Fork Police Department was seeking the public's help in identifying a suspect caught on surveillance camera Saturday morning during a bank robbery.
In a subsequent news release, police said, "The suspect believed to be responsible for the robbery that occurred earlier today at the Wells Fargo Bank in Spanish Fork has been located and safely taken into custody."
Spanish Fork police and officers from nearby agencies responded at 10:28 a.m. to Wells Fargo Bank, 251 E. 1000 North, after the robbery was reported.
A man had entered the bank and given the teller a note, which said, "This is a robbery, provide me with $50's and $100's."
The word gun was also printed on the note, although the suspect did not display a handgun. The man fled the bank with an undisclosed amount of cash.
The employees of the bank were not injured.
According to the later news release, at about 1:30 p.m. Saturday, a Price City police officer saw two people who were trying to hide from him in their vehicle as he patrolled the parking lot of the Walmart in Price. They left the parking lot, and the officer stopped the vehicle for a traffic offense.
"The two individuals provided the officer with false names. The two individuals were arrested for providing false identities to the officer," the release states.  "Inside the vehicle, a note matching a similar description to the one used in the Wells Fargo robbery was located. Several $50 and $100 bills were also located in the vehicle."
According to the release, the suspect has been identified as 23-year-old Nicholas R. Mobley. Mobley's identification card gives an address in Denver, Colorado. The second person has been identified as 25-year-old Gregorio Efrain Gomez. Gomez's identification indicates an address for Grand Junction, Colorado. Gomez was allegedly the driver of a vehicle that was parked in the area of Wells Fargo Bank. The two men fled the area immediately after the robbery.
Mobley and Gomez have been booked into Utah County Jail on suspicion of robbery.