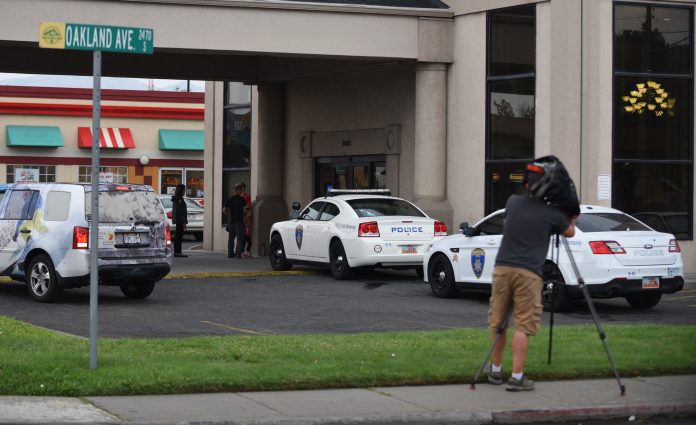 SOUTH SALT LAKE, Utah, Aug. 2, 2018 (Gephardt Daily) — Police in South Salt Lake have taken a suspect into custody who barricaded himself inside a hotel room after he threatened a man with a stun gun and stole his cell phone.
Gary Keller, spokesman for South Salt Lake Police, told Gephardt Daily the incident began at approximately 9:15 a.m. when a man who was initially reported to be an Uber driver went to pick up a passenger at the Ramada Inn at 2455 S. State Street.
Keller said the suspect asked the driver to come up to his room on the fourth floor, to help him carry luggage, and when the driver stepped inside the room, the suspect demanded money and his cell phone. The suspect was armed with a stun gun, Keller said.
The man told the suspect he did not have cash, but turned over his cell phone. The suspect then let him leave the room and he immediately called police.
However, later on in the day, Uber said the man was not a driver registered with them.
The suspect then barricaded himself inside the room, but was peacefully taken into custody at around noon.
The suspect has been identified as Thomas Patrick Cooper, 27, of Salt Lake City. Cooper has been booked into Salt Lake County Jail and charged with first-degree felony aggravated robbery, misdemeanor unlawful possession /purchase/transporting a dangerous weapon and offer/agree to commit sexual act for fee or equivalent. Cooper has not yet been formally charged; the case will be screened by the Salt Lake District Attorney's Office.
Gephardt Daily will have more on this developing story as information is made available.