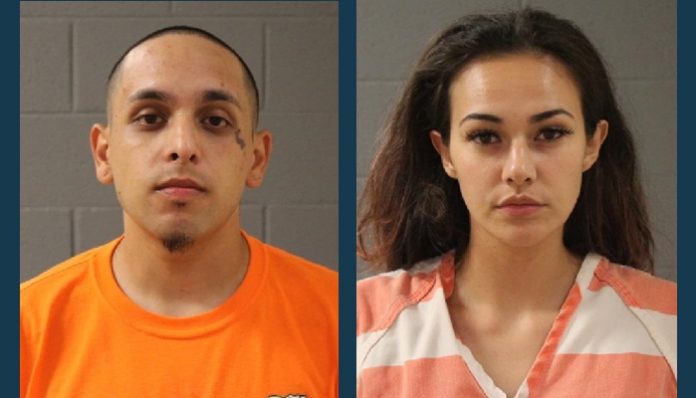 ST. GEORGE, Utah, July 29, 2019 (Gephardt Daily) — A St. George couple allegedly dragged a teen with their car and ran over her foot after stealing her phone.
A probable cause statement from the 5th District Court of St. George said Anthony Marcos Alamillo and his wife Braelie Jade Alamillo, both 22, are facing charges of robbery, a second-degree felony and aggravated assault, a third-degree felony.
Their probable cause statement said the arresting officer responded to an address in St. George Saturday night on a report that the 15-year-old victim had been trying to sell her iPhone 8 for $400 on the online phone application, Letgo.
Anthony and Braelie Alamillo responded to the victim's ad, inquiring about her phone and agreed to meet at the St. George address to make the transaction. The couple agreed to pay $400 for the victim's phone, and arrived at the location in their blue 2002 Ford Focus, the statement said.
"Anthony was driving and Braelie was the front passenger," the statement said. "Braelie exited the vehicle to meet the victim, while Anthony remained inside the vehicle. Braelie wanted to see if her SIM card would work in the victim's phone. The victim inserted Braelie's SIM card into her phone. The victim then handed the phone to Braelie."
The two women then walked over to the car, and Braelie Alamillo asked her husband if he had another $100.
The victim then said she thought the couple were going to try and steal her phone, and she reached through the front passenger window and tried retrieving her phone back from Braelie Alamillo.
"Instead of giving the phone back to the victim, Braelie began punching the victim in the head and shoulders," the statement said. "Anthony pushed on the gas pedal, causing their vehicle to accelerate away. The victim's upper torso was halfway inside the Focus as it sped away, causing her be carried away. The victim was carried approximately 200 feet before she finally retrieved her phone from Braelie."
The victim then fell out of the vehicle onto the asphalt roadway. During the incident, one of the Focus's tires ran over the victim's foot, the statement said. The victim was transported to Dixie Regional Medical Center in St. George by ambulance, where she was treated for her injuries.
The couple drove back towards their own home, but parked approximately a mile away. They were apprehended by authorities as they were walking back to their residence.
The two were placed under arrest and transported to the Washington County Correctional Facility.
Anthony Alamillo had a no bail warrant for his arrest; he is being held without bail and his wife's bail has been set at $10,000.
It was also found that the couple arrived at the location with only $4 in their possession, "which leads me to believe they had no intention of paying the victim for her phone," the statement said.