St. George to Hold Special Olympics Send off For Utah Woman and Officer Carrying Torch to L.A.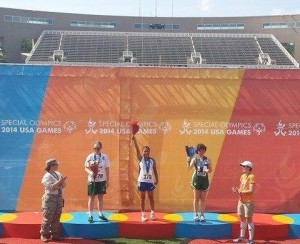 St. George, UT – July 1, 2015 – Special Olympics Utah has invited the community to a celebratory send-off on Friday, July 3 for southern Utah natives Jazmine Slama, Special Olympics Utah athlete, and Jeremy Needles, St. George Police Officer, as they prepare to serve as Guardians of the Flame of Hope in the Law Enforcement Torch Run Final Leg as the flame travels to the Special Olympics World Games Los Angeles 2015.
Slama, who was the first person with intellectual disabilities at Hurricane High School who qualified for both the cross country running team and the track team, was selected by Special Olympics Utah and the Utah Law Enforcement Torch Run to be on of 10 final Leg Team members.
Slama still participates in track and competed in the 2014 Special Olympics USA Games in Princeton, New Jersey last summer where she won a gold medal in the 800 meter track and field event. "Competing with Special Olympics Utah has helped me develop high goals in life and helped me make new friends," Slama said. "I am proud to be selected to participate in this international event."
Tim Slama, Jazmine's coach and father said she has always had a good attitude about running, but Special Olympics Utah has given her an even greater desire to do it. "She has such a big heart and never gives up. Even in the summer heat, she gets up early in the morning and runs about five miles every day. She is very excited to be part of the Final Leg taking the torch into the Opening Ceremony of World Games," said Tim.
Needles, an officer with the St. George Police Department, who was also selected by Special Olympics Utah and the Utah Law Enforcement Torch Run to be one of the 10 Final Leg Team members, has been involved with Special Olympics Utah since 2005 and running charitable organizations for the department since 2007. Together with the St. George Police Department, Needles has raised more than $25,000 for Special Olympics Utah through the Law Enforcement Torch Run.
The celebration will include special guest artist Shaun Canon, an Emmy-nominated singer-songwriter who has performed with artists such as Lindsey Stirling, David Archuleta, Janelle Monae and Brian McKnight.
Special Olympics Utah is hoping the local community will come out to meet and support Slama, Needles, other law enforcement officers and other athletes and that the event will inspire people to get involved with SOUT by becoming an athlete, coach, volunteer or donor. A Special Olympics Utah representative will be on site to answer questions about getting involved.
The event will be held at Dixie State College, 225 South 700 East, St. George on Friday July 3 at 7 p.m. The torch will be entering the celebration at 7:30 p.m to light the Special Olympics cauldron.
Special Olympics Utah provides free year-round training and competition in 8 sports for more than 2,500 participants living in the state of Utah. With the support of more than 3,500 volunteers and the generosity of Utah citizens, corporations and local businesses, Special Olympics Utah is able to offer many events annually to individuals with intellectual disabilities. Participation with other athletes, partners (typically developing peers), coaches, sponsors and volunteers builds confidence and creates opportunities to participate as productive and respected members of society by increasing public awareness of the athletes' capabilities.