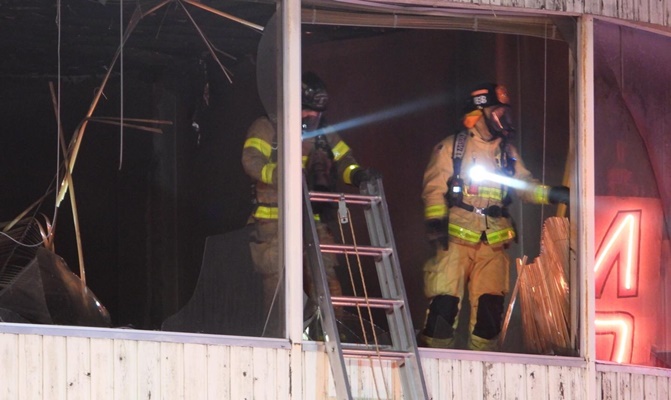 SALT LAKE CITY, Utah, Nov. 16, 2019 (Gephardt Daily) — About 35 firefighters are battling a structure fire that went to a second alarm Saturday night in Salt Lake City, and crews plan to have State Street shut down until at least past midnight.
Capt. Tony Stowe, with the Salt Lake City Fire Department, said the fire is in a vacant commercial building that was a furniture warehouse at 1811 S. State.
Officials don't know the cause of the fire yet, but Stowe said there were a couple of reports that transients may have been inside the building. He said that possibility is something the fire department is "trying to be aware of."
The fire started at about 8:45 p.m. and fire crews were still working on it more than an hour later.
Stowe said firefighters arrived to find heavy smoke and flames visible, and their focus was to "chase down the source of the fire."
Crews accessed the interior of the building and found a burned-out staircase, so it was unknown how long the fire was burning before the fire department was on scene.
Because the building was currently under some form of construction, Stowe said, fire crews evacuated and went into defensive mode.
"Just due to the nature of the structure, we pulled everyone out and put up aerial devices and decided to attack from the outside," he said. "You can hear the saws running. They're opening up the roof area, the windows, walls. Anytime a building is under construction, it really allows rapid fire spread. We're trying to get ahead of that."
No injuries have been reported, Stowe said, adding that they had an all-clear on the first floor and were working on the second floor. He wasn't sure if anything such as furniture or other items were burning inside.
Medical personnel are on scene on standby, in accordance with protocol, "because firefighting is inherently dangerous," Stowe said.
At about 10 p.m., Stowe said, "We'll be here a couple more hours, to make sure there's no further extension of the fire."
All northbound traffic on State Street has been shut down while crews are on scene.