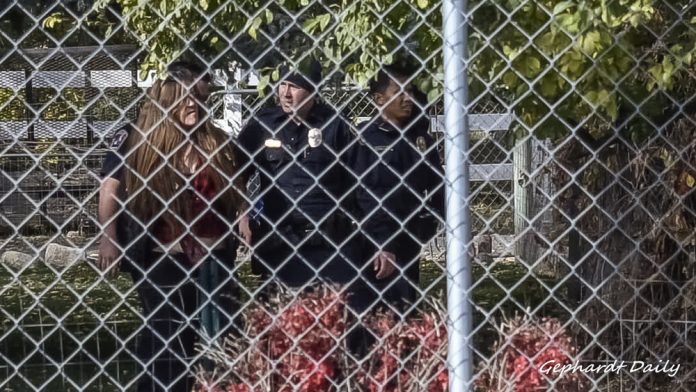 WEST JORDAN, Utah, Oct. 22, 2017 (Gephardt Daily) — Two suspects are in custody after they allegedly crashed a stolen car in a residential neighborhood then one of them attempted to flee from police Sunday morning.
Officer Adam Horman with West Jordan Police Department told Gephardt Daily the two suspects have been identified as Tonga Koli, 34, and Krystal Fisher, 31.
The incident began after a West Jordan officer located a license plate that was stolen on an occupied vehicle in the area of 7000 S. 3200 West, at approximately 10:30 a.m.
"He initiated a traffic stop on that vehicle, it initially drove into a cul-de-sac quickly and apparently was trying to evade him," Horman said. "They briefly stopped, he gave them some commands, they then fled around his vehicle, he gave a short pursuit."
Fisher, who was driving, then fled into Freedom Lane, which is at 7300 South just off 3200 West, and unbeknownst to the suspects, is a dead-end street. Fisher crashed into a yard, and got high-centered on a rock.
"The male passenger, Koli, was taken into custody without incident at that point. The female driver fled on foot," Horman said.
Officers set up a containment of the area and conducted a search. Fisher was located in the back of a truck at 7450 S. 3200 West. She was also taken into custody without incident.
"We're still searching the area for additional evidence," Horman said. "We have located a significant amount of personal use methamphetamine. The male passenger also has some outstanding warrants so we're looking into a possible check fraud issue."
Horman said Fisher was dropping items as she was running from police, so a K-9 officer has also been brought in to search the area.
A holster was found, but it's not known whether the two had a gun.
Gephardt Daily will have more on this developing story as information becomes available.