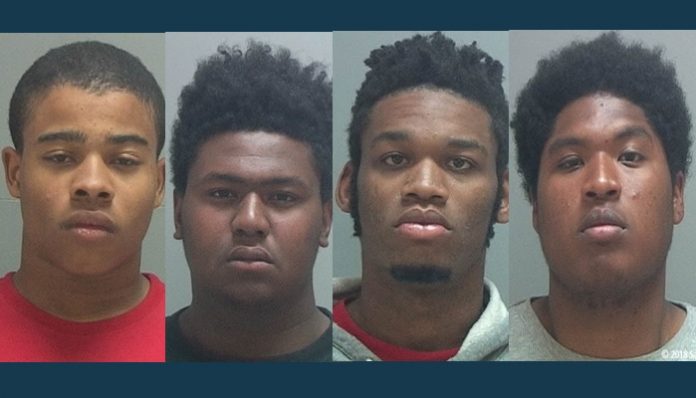 SALT LAKE CITY, Utah, April 23, 2018 (Gephardt Daily) — Four adults and a juvenile are facing charges of aggravated assault and aggravated robbery following a strong-arm robbery in Liberty Park on Sunday.
The adult suspects are Zion Gadson, 18, Robert Williams, 18, Jaelyn Fountain, 20, and Joevany Ravelo-Harris, 19, the Salt Lake City Police Department said in a news release. A 14 year old, who was not named because of his juvenile status, was transported to detention and booked on the same charges.
The incident occurred just before 9:15 p.m. at the park, at 601 E. 1300 South.
The victim called police and said his phone, backpack and cash had been taken by a group of males, who left the park on foot going northbound. Bike officers arrived in the area and observed a group of five males matching the suspect descriptions.
The group was stopped and identified by witnesses and the victim as the suspects. All property taken in the robbery was found on the suspects, police said.
"It was determined the suspects encountered the victim in the park, assaulted him, and pulled him to the ground where all five males began kicking him in the head and throughout his body," the news release said. "The males then took the victim's property."
Another man tried to intervene, and was also assaulted, thrown to the ground, and kicked throughout his body and head.
The initial victim suffered head trauma and was transported to an area hospital in stable condition.