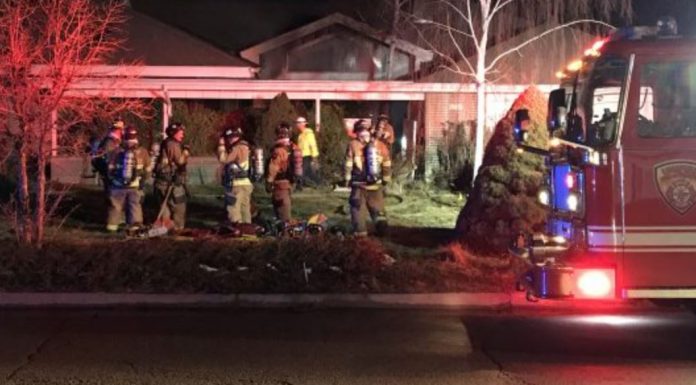 SALT LAKE CITY, Utah, Feb. 2, 2018 (Gephardt Daily) — Crews responded to a two-alarm fire early Friday morning in the Olympus Cove area of Salt Lake City.
Firefighters were called to the scene, at 4650 S. Deercreek Road, after neighbors had to restrain a resident from re-entering the home.
"The neighbors thought she was maybe trying to get back inside to rescue an animal, and there were some neighbors trying to keep her outside," said Duane Woolsey, Unified Fire Authority Battalion Chief.
"The first engine arrived, and they had no smoke, no flame, but as they tried to look into things a bit further, they did find fire inside the house."
The fire appeared to be isolated to a back bedroom, Woolsey said, but the amount of belongings stored in the home made the fire difficult to fight.
"The conditions inside are making it really tough to see exactly where the fire is and how much damage the fire has done," Woolsey said.
"There's just a lot of stuff in the house that makes it difficult to move around and get to where the fire actually started and where it was burning. It's difficult making entry in, then making sure they had a way out. There are a lot of belongings in there. They say they are piled about chest high. It's just making it really difficult for us to get around."
The woman lived alone in the house with her dog. Neither was hurt, Woolsey said. Firefighters also were unhurt.
"We do have a fire investigator here, and he'll do his best to determine a cause," Woolsey said. "A lot of these do remain undetermined just because of the nature of the fires, and particularly this one because the amount of stuff in there."
Once the fire was out, the operation would enter the overhaul stage, Woolsey said.
"If it's a clean home and you can get to everything, it takes about 30 minutes," he said. "In a home where there's a lot of stuff, you've got to go through a little bit at a time. It can take a couple of hours to make sure we actually find the seat of the fire. We'll be here a while."