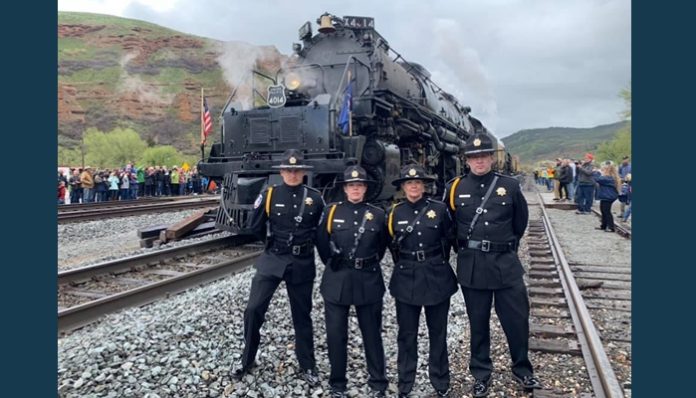 SUMMIT COUNTY, Utah, May 8, 2019 (Gephardt Daily) — Summit County is beginning the Spike 150 celebrations across Utah with the arrival of the Union Pacific Railroad Big Boy No. 4014 locomotive in the town of Echo Wednesday.
"Our honor guard was able to help kick off the event," said a Facebook post from Summit County Wednesday morning. "Thanks to all who made this great event happen! #UtahHistory."
The event began with food trucks and live music at 8 a.m., followed by the arrival of Big Boy, one of the largest locomotives in the world, at 9:20 a.m. At 9:45 a.m., Big Boy departed for Morgan, then traveled on to Ogden.
A news release from Union Pacific said its historic steam locomotives – Big Boy No. 4014 and the Living Legend No. 844 – are touring the Union Pacific system throughout 2019 to commemorate the transcontinental railroad's 150th anniversary.
The story continues below Summit County's video.
"The Big Boy's return to the rails is the product of more than two years of meticulous restoration work by the Union Pacific Steam Team," the news release said. "No. 4014 is the world's only operating Big Boy locomotive."
For Big Boy's full schedule click here.
Ogden's Heritage Festival, from May 9-11, will feature the Big Boy 4014 and 844 steam trains, which will be on display at Union Station. The Station will also feature exhibits celebrating the influence of the trains and rail industry. Historic 25th Street will have historic presentations, live music, performances, vendors, community activities and more. For more on the festival, click here.
Utah Transit Authority said in a news release it is implementing a number of efforts to support the Spike 150 celebration. UTA is offering a $5 per-day promotional pass valid May 9-11 on all services except Salt Lake–Park City Connect and Paratransit.
From May 9-11, UTA bus shuttles will run every 30 minutes from 8 a.m. to 9 p.m. between five designated parking lots and Ogden Union Station. This is a free service provided to support Spike 150 festivities in Ogden.
For more information about UTA's promotional pass and the additional bus and rail services, click here.