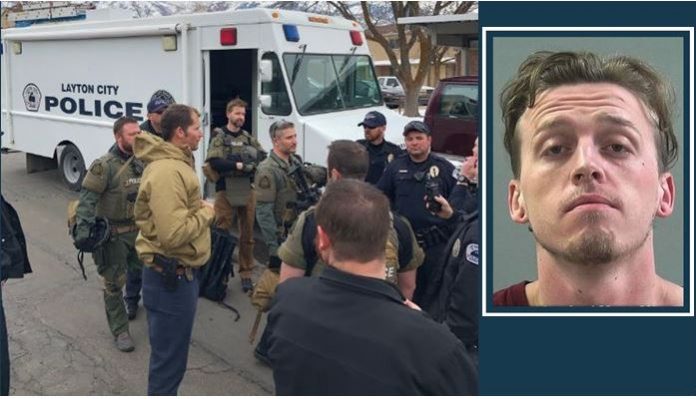 OGDEN, Utah, Feb. 13, 2019 (Gephardt Daily) — A suspect taken into custody Tuesday in a Layton City Police SWAT operation has been booked into the Weber County Jail on charges related to the shooting of two Ogden brothers, one of whom died.
Theron Nelson Farmer, 23, has been booked on suspicion of:
Aggravated murder, a first-degree felony
Aggravated attempted murder, a first-degree felony
Aggravated robbery, a first-degree felony
Purchase/transport/possession/use of a firearm by a restricted person, a second-degree felony
Obstruction of justice, a second-degree felony
Farmer  was wanted in the Monday shooting of Kamron Johnson, 18, and his brother, Eric Johnson, Jr., 20. Kamron Johnson died at the scene, and Eric Johnson was transported to McKay-Dee Hospital, where he remains, in critical condition.
Eric Johnson, Sr., father of Kamron and Eric, Jr., found the men and called police at the home, at 862 W. Lake St., in west Ogden.
"Kamron had been shot multiple times and succumbed to his injuries while Eric was still alive despite being shot multiple times," Farmer's probable cause statement says.
"Eric, Jr., was transported to a local hospital and while there named one of the suspects as his one-time friend, Theron Farmer, and the other as a heavier set Hispanic male introduced by Theron."
The probable cause statement does not name the second suspect wanted in the case.
"He (Eric, Jr.) advised that the male drew a weapon and fired while Theron showed off a gun in his waistband to Eric, and raided the house looking for property to steal."
Farmer and the second suspect were not on scene when police arrived Monday evening. On Tuesday, Ogden City Police detectives got a tip that Farmer was at a Layton apartment building, and a Layton SWAT was able to take him into custody.
"He was taken to the Ogden City Police Department for an interview," the probable cause statement says. "He was allowed to rest through the night and in the morning of 2/13/19 he was taken to the Weber County Sheriff's Office Investigations holding cells. He was eventually pulled aside for an interview and was read his rights per Miranda. He waived his rights and opted to speak with me."
Farmer admitted to being present during the murder of Kamron and attempted murder of Eric, Jr., the statement said.
"He admitted that Kamron was shot and killed during this robbery and that he saw Eric, Jr., shot multiple times. After they left, he admitted to being given two phones that he believed were Kamron's and Eric, Jr.'s, and throwing them out of the vehicle after they left the scene.
"He (Farmer) stated that they had gone to the home to purchase drugs and that the other male shot both Johnsons, and that they looted the house and took Xanax, a small unknown amount of cash, a pair of pants, and a coat (brand unknown)."
Farmer was free on bail while awaiting trial on a previous felony charge, the probable cause statement says.
Farmer is being held without bail.
A GoFundMe page that says it was set up to benefit the family of the Johnson brothers can be found by clicking here.
"The life of Kamron was senselessly taken, while Eric ,Jr., clings to his life after a dispute with another individual armed with a gun," the page says, in part.
"These young men had their full lives ahead of them. Please do what you can to help the family of these boys. The immeasurable costs for the family due to this tragedy is just a fraction of the hardship they are going through."