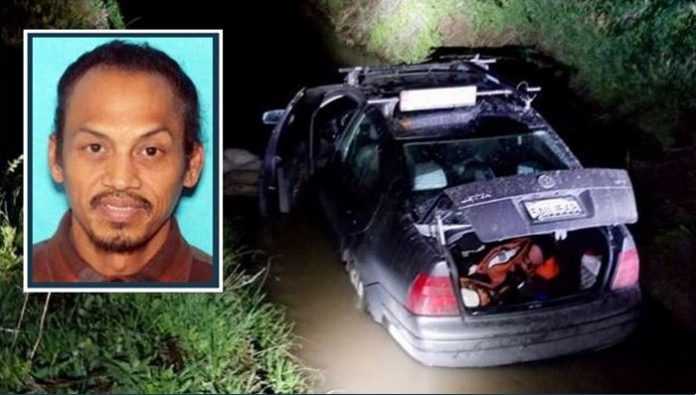 BURLEY, Idaho, May 24, 2019 (Gephardt Daily) — After a two-day manhunt, suspect Jonathan Llana, wanted after a shooting homicide in Box Elder County, has been captured near Burley, Idaho.
"We are pleased to report that the I-84 homicide suspect, Jonathan Llana, has been caught by our multi-agency task force!," a statement from Utah Highway Patrol says.
"He was found roughly 10 miles from the original crash location outside of Burley. He managed to break into a house overnight and steal a side-by-side ATV."
Llana, 45, was wanted after Utah Highway Patrol officials say he shot and killed 50-year-old Dennis Gwyther, a Salt Lake City man who was traveling on Interstate 84 with a coworker for work. Gwyther was a flight attendant for SkyWest.
Gwyther was on Interstate 84 near Snowville when he was fatally shot by another driver, believed to be Llana. Gwyther's passenger also was shot in the arm. He survived, and was able to call 911 and alert authorities.
Read more about Gwyther by clicking here.
Based on a description of Llana's silver Jetta, which had a distinctive antenna, Idaho law officials were able to spot his vehicle on Interstate 86 near Burley, and attempt a traffic stop.
Utah Highway Patrol Lt. Ryan VanFleet said at a news conference on Thursday that the driver fled, and the gray Jetta was later found, abandoned, in a creek. A gun was found inside.
Officials have found no evidence that the Jetta driver and Gwyther knew each other or had a previous road-rage incident. VanFleet did say that all traffic had been slowed prior to the shooting due to one semi trying to pass another and both traffic lanes being blocked.
Llana was apprehended at about 3:15 p.m. Friday, according to a statement from the Idaho State Police:
"Today at approximately 3:15 p.m., suspect Jonathan Llana was taken into custody by law enforcement officers from a joint task force consisting of Utah Highway Patrol, Idaho State Police, Cassia County Sheriff's Office, Twin Falls County Sheriff's Office, Power County Sheriff's Office, (and) Idaho Fish and Game.
"Details of the arrest are not fully available at this time, but Llana was taken into custody within the initial search area, in the vicinity of the intersection of I-86 and Raft River/Yale Road.
"Fortunately, we know of no injuries to any civilians or law enforcement officers that resulted from this manhunt."